Thornton shares rise as chief executive steps down
Last Updated at 23 Mar 2018, 16:36 GMT
*Chart shows local time
value
change
%
6921.94

-

-30.65

-

-0.44

Top winner and loser

4984.00 p

+

+

1468.50 p

-

-
value
change
%
19319.48

-

-74.41

-

-0.38

3874.01

-

-16.76

-

-0.43

3830.25

-

-16.63

-

-0.43

4174.38

-

-6.03

-

-0.14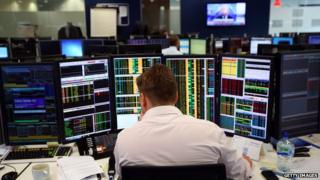 (Close): Shares in chocolate maker Thorntons gained 3.8% after its chief executive said he was stepping down.
The company said Jonathan Hart would leave the firm by the end of June, with chief operating officer Barry Bloomer taking over as interim chief executive.
The benchmark FTSE 100 index ended the day on Monday up 8.38 points or 0.12% at 6,968.87.
Silver miner Fresnillo rose 5.4% after saying its production targets for 2018 remained unchanged.
Shares in Marks and Spencer rose 2.3% ahead of its full-year results on Wednesday. Press reports at the weekend said the retailer was expected to unveil a rise in profits.
BHP Billiton was the biggest faller in the FTSE 100, down 4.6%, after shares in its spin-off, South32, began trading. South32 has a market capitalisation of about $9bn, but this was at the lower end of forecasts.
In the FTSE 250, shares in Aveva jumped 9% following press reports that the engineering software developer could be a takeover target.
Gaming firm Bwin.party rose 8.6% after 888 Holdings confirmed that it had made a takeover approach for the firm.
The move has raised the prospect of a bidding war for Bwin, as the company has already received a bid from GVC Holdings.
On the currency markets, the pound fell 0.3% against the dollar to $1.5676, but rose 0.5% against the euro to €1.3808.