German train drivers to strike again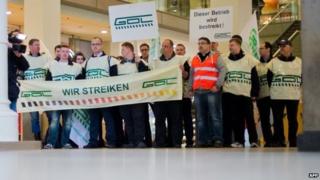 Drivers for Germany's Deutsche Bahn have declared a fresh strike, marking the ninth walkout in just 11 months.
The strike is due to begin at 14:00 local time on Tuesday for freight trains and at 01:00 Wednesday for passenger services.
GDL union leader Claus Weselsky gave no end date for the strike, but said it would "last a little longer" than the previous five-day stoppage.
GDL wants a 5% pay rise for 20,000 drivers and a shorter working week.
The union is also pushing for the right to negotiate on behalf of other train staff, including conductors and restaurant staff - which is believed to be the main sticking point in the talks.
'Time and money'
An estimated 5.5 million people travel daily by train in Germany meaning the long-running dispute has caused major disruption.
Economists estimate that the last strike in early May - the longest in Deutsche Bahn's history - cost the German economy some €750m (£541m) in lost activity.
"Strikes hurt everyone and cost time and money," said Ulrich Weber, Deutsche Bahn's personnel chief.
The latest strike, which comes after weekend talks between GDL and Deutsche Bahn broke down, is expected to hit travel over the coming long weekend
Transport Minister Alexander Dobrindt on Monday urged the union to agree to a mediation process.
"Responsible bargaining means you have a duty to search for compromise, and that only happens at the negotiating table," he was quoted as saying by Bild.