Chinese stocks hit fresh seven-year high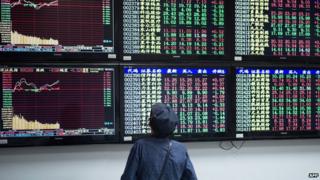 Mainland Chinese stocks hit fresh seven-year highs on Friday and notched up their biggest weekly gain in two months as the market continued to rally.
The Shanghai Composite rose 2.8% to 4,657.60, while Hong Kong's Hang Seng index added 1.7% to 27,992.83.
The mainland index had hit a seven-high on Thursday on hopes of more stimulus from the government after a private survey showed more weakness in the vast manufacturing sector.
The rest of Asia also made gains.
Markets gained momentum from Wall Street, where shares hit a new high.
The S&P 500 closed up 0.2% to a new all-time record after weak US data on home sales, manufacturing and business activity appeared to quash plans of an interest rate rise in June.
Japan's Nikkei 225 index closed up 0.3% to 20,264.41 after the Bank of Japan's decision to keep interest rates and its policy unchanged, as widely expected.
Toshiba shares closed up 0.4% despite the tech firm saying it would expand an accounting probe to other operations with a focus on its TV, computer and chip businesses.
The company has already said that it is investigating bookkeeping irregularities for some infrastructure projects.
In Australia, the S&P/ASX 200 ended flat at 5,664.7.
South Korea's benchmark Kospi index closed up 1.1% at 2,146.1 - the sharpest daily gain in a month.