Semi-detached homes drive property price rise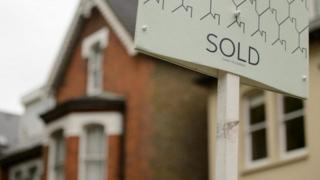 The price of semi-detached homes rose at the fastest rate of any property type in England and Wales in the year to the end of April, data shows.
The value of semis rose by 5.6% over the year, the Land Registry figures show, ahead of flats (up 5.4%) and detached homes (up 5.1%).
Overall, property prices increased by 5.1% over the year and by 0.9% from March to April.
The average home was valued at £179,817, the Land Registry said.
Prices rose the fastest in London over the year, up 10.9%, and in the South East of England, up 8.8%.
The slowest annual property price growth was in Wales, up 0.3%. Prices in Wales fell by 1.1% in April compared with March.
House price calculator
Use our calculator to see where you can afford to rent or buy
The pace of property price rises generally has slowed, although the picture features significant regional differences.
"The property market in Wales and the North East [of England] is a million miles away from the south-east corner of England," said Jonathan Samuels, chief executive of Dragonfly Property Finance.
"The broader fall in the number of property transactions over the last year suggests a natural slowdown in the property market after a period of exuberance."
Property price changes
Region
Monthly change
Annual change
Yorkshire and the Humber
2.7%
3.1%
London
2.3%
10.9%
North West England
2.1%
2.3%
East Midlands
1.4%
5.1%
South West England
1.4%
5.9%
South East England
0.8%
8.8%
East England
0.3%
7.8%
West Midlands
0.2%
2.3%
North East England
-0.5%
-0.6%
Wales
-1.1%
0.3%
Source: Land Registry
The figures come as insurer Legal and General said there was a need for purpose-built homes for the older generation.
Nigel Wilson, chief executive of L&G, said that there were more than five million under-occupied homes owned by the over 55s.
Two-thirds of them were looking to downsize but there were no appropriate homes for them, he said.