Premium Bonds investment limit rises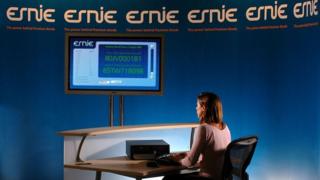 Investors in Premium Bonds can now add an extra £10,000 to their investment, although the chances of winning the £1m jackpots remain slim.
The maximum permitted investment has risen to £50,000 from the previous limit of £40,000.
Premium Bonds are issued by government-backed National Savings and Investments (NS&I).
Instead of paying interest, Premium Bonds are entered into monthly draws for prizes.
The investment limit rise was announced in the 2014 Budget, with the change coming into force on Monday.
Every one of the 54.2 billion bonds has an equal chance of winning one of the two top prizes of £1m, but the chances are the equivalent of flipping a coin and getting 34 consecutive heads. The odds of winning any prize of between £25 and £1m with a single £1 bond are 26,000 to one.
People need to be aged 16 years old or over to buy Premium Bonds, although parents, guardians and grandparents can invest on behalf of their child or grandchild.