EDF loses 266,000 UK customer accounts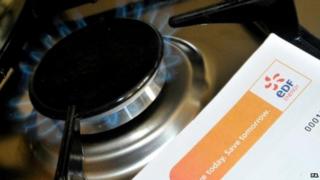 EDF lost 266,000 UK customer accounts in the past year as more consumers chose to switch their gas and electricity suppliers.
The French-owned company suffered most of the losses at the start of the year, but has since begun to arrest the slide.
EDF still has 5.4 million UK customers.
Ofgem said that 1.1 million gas and 1.4 million electricity customers switched between January and May, with 44% moving to independent suppliers.
Independents had 10% of the UK energy market as of March, up from just 2% in January 2013 as consumers search for cheaper deals.
British Gas owner Centrica, which said on Thursday it planned to cut 6,000 jobs, remains the biggest energy provider with 27.9 million customer accounts.
EDF did not say whether it planned to cut prices in the wake of a 5% reduction by British Gas.
"Our prices are under constant review and we work to ensure that our tariffs attract new customers and offer good value to existing ones," a spokesman said.
"EDF Energy's standard dual fuel prices have been the cheapest of the major suppliers for the majority of the last three years."
The company said that UK profits before interest, tax and other charges were flat at €1.3bn (£911m), held back by lower electricity market prices, but supported by greater cost control.
Group profits on the same measure were up 3.6% at €9.1bn, while net profit was flat at €2.5bn. Sales rose 6.3% to €38.4bn.
Meanwhile, EDF said on Thursday it will buy between 51% and 75% of Areva's nuclear reactor business based on a value of €2.7bn for the entire unit.
Jean-Bernard Lévy, chairman and chief executive, said the deal would boost the chances of EDF's major international nuclear projects succeeding.