Millions of bank card holders can now claim refund, says FCA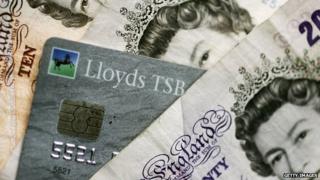 Two million people who were sold unnecessary insurance for bank cards will soon be able to claim compensation, the regulator has said.
The Financial Conduct Authority (FCA) said compensation forms would be sent out later this month.
The customers affected paid about £25 a year to protect themselves against their cards being lost or stolen.
But such cover was already provided by their banks. As a result, some people may be able to claim as much as £270.
The redress scheme, which was approved by the High Court in July, covers those who bought the product between January 2005 and August 2013.
The insurance was sold by a company called Affinion International, and was marketed under the following names:
Card Protection
Sentinel
Sentinel Gold
Sentinel Protection
Sentinel Excel
Safe and Secure Plus
The compensation will be paid by the banks who sold the products, including HSBC, Lloyds, Barclays, Royal Bank of Scotland, Santander and Tesco.
The FCA said forms would be sent out to those affected during August and September, and they should be returned by 18 March, 2016.
Those who bought the product before January 2005 are not officially covered. They are being advised to complain separately to their provider.
The FCA pointed out that the redress scheme - known as AI- was the only official means of compensation.
CPP
Similar bank card protection policies were sold by another firm, called CPP.
The company was fined £10.5m in 2012 by the FCA's predecessor, the Financial Services Authority (FSA), after it was found to have used mis-selling tactics to persuade people they needed the insurance cover.
CPP was also ordered to compensate those who bought such cover.
However, the CPP scheme was closed to claims in February 2015.
---
Do you think you are owed compensation? Get in touch via haveyoursay@bbc.co.uk Please remember to leave your phone number if you are happy to be contacted by a BBC journalist.