Prada profits cut by Asia slowdown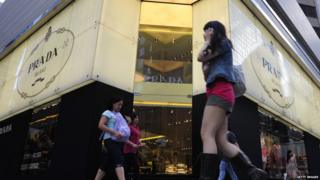 Profits at Italian luxury fashion group Prada fell by almost a quarter in the first half of the year as sales in the Asia Pacific region slid.
First half net profits fell 23% largely because of a sales slowdown in Asia, particularly in Hong Kong and Macau.
However, while the group's net income fell to €188.6m (£139m; $213m), the result was still better than most forecasts.
Shares in Prada, which is listed in Hong Kong, rose 1.8% ahead of the news.
The company said: "The contractions recorded in Hong Kong and Macau had a significant impact on performances for the period, both in terms of sales and margins."
However, Prada said it had seen sales growth in Europe, the Americas, Middle East and in Japan.
Rivals Burberry and LVMH have also seen sales weaken in China as the economy has slowed, and as customers avoided ostentatious luxury in the wake of an anti-corruption drive by authorities.
But Prada's misfortunes go back further. Its shares have fallen 60% in the past two years and its strategy has been been criticised for having too many new stores and not enough new products.
In response, Prada introduced its Inside Bag design in July, priced at around €2,000, and promised to halve the number of new stores this year.
H&M weather troubles
At the other end of the fashion retail market Hennes & Mauritz is facing a different problem - unusually hot weather in many European markets.
It meant the retailer had to delay the sales of autumn clothing, and it recorded the weakest monthly sales growth in over two years.
Sales growth came in at just 1% for August against the 6% most analysts had expected.
But over the whole quarter, from June to August, sales hit their target, rising 19% on the same period last year to 46.0bn crowns ($5.57bn).