Text plan to tackle nuisance calls on mobile phones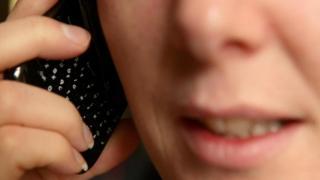 Mobile phone users will be able to send a text to opt out of receiving marketing calls, under regulators' plans.
The development has been highlighted in a progress report by consumer group Which? as part of a campaign to tackle nuisance calls.
Which? wants board level responsibility in companies to ensure unwanted calls are not made.
Its research found that unsolicited calls to mobile phones were increasing.
Regulator Ofcom is working on plans to allow mobile users to sign up to the Telephone Preference Service - a service that makes it illegal to call those on the register with marketing calls.
Ofcom is also working on other technical call-blocking programmes.
In recent months, the Information Commissioner's Office has fined a number of firms for nuisance calls, some of which were making millions of automated calls.
Which? launched its Calling Time campaign to tackle nuisance calls a year ago.
"Despite some good progress, we are still seeing high levels of unwanted calls and texts, so more needs to be done to put an end to this everyday menace once and for all," said Richard Lloyd, executive editor.