US stocks close lower on earnings fears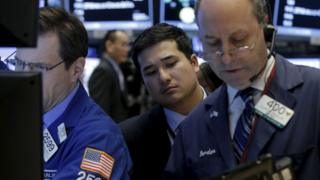 (Close): Stocks on Wall Street closed lower on Tuesday as investors worried weak trade data would lead to poor first quarter corporate earnings.
The Dow Jones Industrial Average fell 133.68 points, or 0.75%, to 17,603.32.
The S&P 500 index dropped 20.96 points to 2,045.17 and the Nasdaq was 40.96 points lower at 4,470.75.
Companies listed on the S&P 500 are expected to see a 4.2% drop in first-quarter earnings, according to S&P Capital IQ.
Shares in Allergan plunged 15% after the US Treasury Department proposed new rules to prevent tax inversion deals.
Pfizer had agreed to buy Dublin-based Allergan and move its headquarters to Ireland so that it could cut its tax rate. However, investors fear that the proposed changes will cause the deal to be scrapped. Pfizer shares rose 2%.
President Obama on Tuesday called inversions an "insidious loophole".
Shares of Disney sank 1.7% after chief operating officer Tom Staggs, who was expected to become the company's next chief executive, said he would step down in May.
Bank shares also wobbled. Goldman Sachs fell 1.5%, while JP Morgan dropped 1.4%.