Fast Retailing drags down Japan markets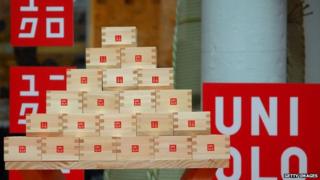 Markets in Japan, South Korea, Hong Kong and Shanghai were trading mostly lower on Friday, following the weak performance on Wall Street overnight.
But, after suffering losses for most of the week, Japan's benchmark Nikkei 225 scrapped into the positive territory.
The index ended Fridays' session higher by 0.5% to 15,821.52. For the week, the Nikkei 225 fell by 2.1.%.
The biggest loser on Friday was Fast Retailing, which saw its shares decline by 12.8% at the close.
The firm, which owns the Uniqlo clothing brand, is forecasting a 45.5% drop in net profit for the business year to August.
The company cited warmer than expected weather, which has hit demand for Uniqlo's popular thermal wear.
Its earnings announcement for the six months to February showed poor sales for Uniqlo in Japan, as well as greater China, South Korea and the US.
Shares of companies reliant on exports were also lower, including Sony and Bridgestone, because of the recent surge of the Japanese yen.
The yen rose to an 18-month high against the US dollar overnight, at about the 108 level. The dip in the US currency follows the release of Federal Reserve minutes.
The minutes published earlier this week pointed to concerns about the US central bank's limited ability to tackle a global economic slowdown.
US stocks closed lower overnight on renewed concerns about the state of the global economy.
In South Korea, the benchmark Kospi index closed down 0.1% to 1,972.05.
Australian shares fell 0.53% at the close, losing 26.48 points to 4937.6.
For the week, the benchmark S&P ASX 200 lost 1.2%, rounding off a third week of losses for the commodities-heavy index.
In Hong Kong, the Hang Seng ended the day 0.5% higher at 20,370.40. Meanwhile, China's Shanghai Composite index closed 0.8% lower at 2,984.96.