Skoda sees record start to the year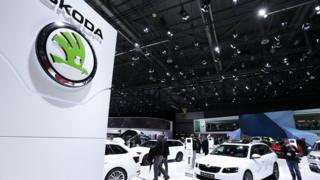 Czech carmaker Skoda has posted its best first quarter to date as it shrugged off the emissions scandal hanging over parent company Volkswagen.
Skoda sold 276,600 cars in the first three months of 2016, rising 4.3% on the same period last year.
Sales director Werner Eichhorn said growth in China and Europe contributed to the strongest start in its 121-year history.
However, he said sales in some markets, particularly Russia, remained "tense".
Sales of Skoda cars dropped in some markets last year amid a controversy over the level of emissions from Volkswagen's diesel and petrol cars.
In September, Skoda said 1.2 million of its cars were fitted with the software that allowed Volkswagen to cheat US emissions tests.