Stocks on Wall Street edge higher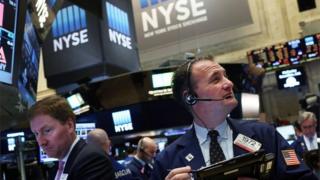 (Close): US stocks saw modest gains as the Federal Reserve began its latest two-day meeting and investors waited for some key earnings reports.
Analysts think the Fed is unlikely to change interest rates when its meeting concludes on Wednesday, but there is speculation rates could rise in June.
The Dow Jones rose 13.08 points to 17,990.32, the broader S&P 500 rose 3.9 points to 2,091.70.
The tech-heavy Nasdaq index edged 7.5 points lower to 4,888.31.
Procter & Gamble shares were the biggest losers among the Dow Industrials, falling 2.3%.
It reported a 29% jump in profits to $2.75bn in the January to March period - its third quarter - while net revenue fell 7% to $15.76bn.
Shares in 3M fell 1.3%, despite the manufacturer reporting a larger-than-expected 6.6% rise in first quarter profits to $1.28bn.
After the close of trading, Apple reported its first decline in quarterly sales since 2003, as sales of iPhones fell.