US stocks fall on global growth fears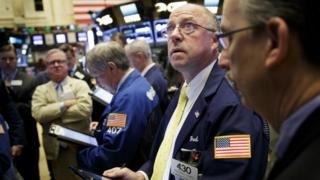 (Close): Stocks on Wall Street fell on Tuesday as concerns about a global economic slowdown resurfaced.
The Dow Jones index fell 138.88 points, or 0.78%, to 17,752.28, while the broader S&P 500 dropped 18 points, or 0.86%, to 2,063.43.
The Nasdaq index slid 54.37 points, or 1.13%, to 4,763.22
Weak economic data from China and Europe, a drop in oil prices and an Australian rate cut renewed fears about the global economy.
"Concerns about global growth are at the forefront of the investors thinking right now," said Alan Skrainka, chief investment officer at Cornerstone Wealth Management.
Australia's central bank cut rates to a record low of 1.75%, while a survey said Chinese factory output contracted for the 14th month in a row in April.
Bank shares were hit following disappointing results from European banks, including UBS and Commerzbank.
Among the US banks, shares in JP Morgan Chase fell 1.9% while Goldman Sachs was 1.8% lower.
US crude oil fell 2.5% to $43.67 per barrel. The drop sent shares of Chevron down 1.9%.
Shares of Halliburton fell 3.8% after its deal to buy Baker Hughes fell through. The company said it would look for acquisitions to boost its business.