China shares flat as growth worries linger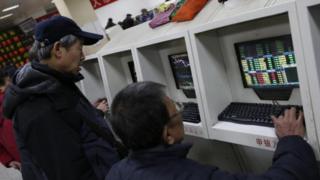 Shares in China traded flat as worries about global growth prospects continued to worry investors.
Growth in Chinese business activity softened slightly in April, according to a private survey, raising further questions over the economy's strength.
China's Shanghai Composite index was up slightly at 2,995.41 in afternoon trade.
In Hong Kong, the Hang Seng index was down 24.35 points, or 0.1%, at 20,501.48.
Trading has remained subdued with markets in Japan shut for three days of national holidays. Japan's market will re-open on Friday.
Markets in South Korea have shut for a long weekend from Thursday, and trading there will resume on Monday.
In Australia, bank shares outpaced the broader market. National Australia Bank (NAB) saw its shares climb to a six-week intra-day high and closed up 2.05%.
The country's biggest lender said its cash profit for the six months to March rose 6.5% to A$3.31bn ($2.47bn; £1.69bn).
Shares in NAB's rivals - Westpac and ANZ Bank also closed higher.
The benchmark S&P ASX 200 share index edged up 0.1% to 5,279.06.
Many of the banks in Australia have decided to pass on the latest rate cut by the central bank, in full.
On Tuesday, the Reserve Bank of Australia trimmed its key lending rate to a record low of 1.75%, citing lower-than-expected inflationary pressures for the move.