Healthcare stocks lift Wall Street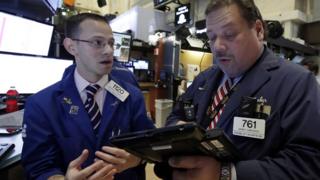 (Closed): Wall Street markets closed mostly higher on Monday, as gains in health related stocks offset dips in oil.
The Nasdaq composite rose 14.05 points to 4750.21, while the S&P 500 climbed 1.55 to 2058.69.
The Dow Jones Industrial Average slipped 34.72 points to 17,705.91.
Oil prices dropped after gains last week that came after Canadian suppliers were forced to halt production due to spreading wildfires.
West Texas crude fell 2.9% to $43.35 a barrel and Brent crude dropped 4% to $43.35.
Biotech firm Medivation rose 4.2% after a report was released that suggested it was considering possible offers to buy the company.
Shares of other pharmaceutical companies rose as well. Biogen rose 2.5% and Gilead Sciences climbed 1.2%.
Among the main winners for the day was Krispy Kreme, which surged 24% after accepting a $1.35bn takeover offer from German investment firm JAB.
One of the main fallers was peer-to-peer lending company Lending Club, which fell 35% after its chief executive resigned.
Shares of equipment-maker Caterpillar fell 3.5% off the back of the drop in oil prices.