US markets wobble but close flat after Fed rate rise hint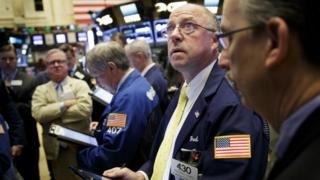 (Close): US shares turn negative after minutes from the Federal Reserve's April meeting suggested rates will rise in June.
The Fed said that as long as growth, inflation and employment were all positive rates should rise then from their current 0.25%-0.5%.
The Dow Jones fell 3 points 17,526, the S&P 500 was flat at 2,047 points.
The tech-based Nasdaq index was against the flat-to lower trend, up by 23 points to 4,739.
Banks gained, with JP Morgan and Goldman Sachs both up more than 3%. Higher rates should give banks more scope to raise margins.
Shares in Target, the sixth-largest retailer in the US, sank 8% after its sales figures fell short of expectations.
For the three months to 30 April, sales at stores open at least a year climbed 1.2%, but this was below analysts' forecasts of a 1.6% rise.
The news hit shares in other retailers as well, with Walmart dropping 3%.