Queen's Speech: Jeremy Corbyn in 'driverless car' jibe at PM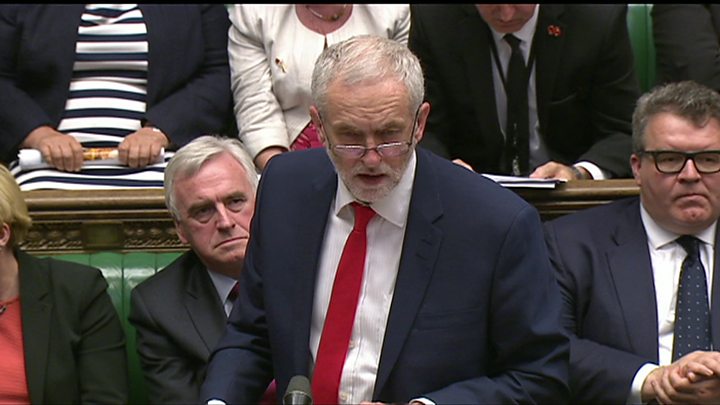 Jeremy Corbyn has likened the government to "a driverless car heading in the wrong direction", in his response to the Queen's Speech.
The Labour leader said the raft of new policies would not make society more equal or create opportunities for all.
He said the government failed to realise "cuts have consequences" as he attacked austerity as a "political choice not an economic necessity".
Prison reform was the centrepiece of the government's plans.
The government has also said it will publish details of a British Bill of Rights to replace the Human Rights Act.
Mr Corbyn said Labour would oppose the plans, as he accused ministers of displaying a "worryingly authoritarian streak".
'Cuts have consequences'
In his first response to a Queen's Speech as leader of the Labour Party, Mr Corbyn said the legislative agenda put forward by the government failed to deliver a more equal society, an economy that worked for everyone and a society offering opportunity for all.
"Still this government does not seem to understand that cuts have their consequences," he told the Commons.
Mr Corbyn - who was flanked by his shadow chancellor, John McDonnell, and deputy leader Tom Watson - added: "This austerity is a political choice, not an economic necessity, and it's a wrong choice for our country made by a government with the wrong priorities."
Continuing his attack on the government, the Labour leader said it had missed its fiscal targets and failed on productivity and rebalancing the economy.
He also predicted that many of the new bills announced in the Queen's Speech would not become law, as he told MPs the government had been "forced to back down" on a number of proposals in recent months, including plans to relax Sunday trading laws and more recently to force all schools in England to become academies.
The Queen's Speech included plans to promote the development of driverless cars, including ensuring "appropriate insurance" is available for them.
Playing on that theme, Mr Corbyn told the Commons: "If anyone wants to deliver a more equal society, an economy that works for everyone and a society where there is opportunity for all, it takes an active government to do it, not the driverless car heading in the wrong direction that we have with this government at the present time."
'A parliamentary record'
Mr Corbyn spoke for more than 40 minutes in the Commons - and drew anger from Conservative MPs for ignoring their attempts to intervene and ask him a question.
Jacob Rees-Mogg, MP for North East Somerset, took the matter up with Speaker John Bercow, saying it was a "customary courtesy" for MPs to give way in speeches lasting more than 20 minutes.
Mr Bercow agreed it was customary but pointed out "it is not required". Later, after further heckling of the Labour leader, he had to appeal for calm, urging MPs "who may be irritated to behave with dignity".
David Cameron weighed in on the matter, remarking that it was a "parliamentary record" for there to be a "41-minute speech without a single intervention".
"I have been taking part in these debates on the Queen's Speech for the last 10 years and I've never seen a minister or an opposition refuse (interventions)," he said.
The 21-bill agenda proposed by the government includes:
Improving opportunities for children in care and speeding up permanent adoption in England
Supporting for the development of spaceplanes and commercial spaceports, although the location of the first one has not been named
Spreading the use of drones by businesses and individuals
Plans to force every school in England to become an academy have been ditched - instead the Education for All Bill proposes "moving towards a system where every school is an academy" starting with those in the "worst performing local authorities"
Requiring pornographic websites to verify users are over 18
Proposals to recoup money from foreign nationals using the NHS
A legal right to fast broadband connections for every household
A tax on sugary soft drinks from April 2018
Plans to better protect pensions savings