Bank and tech stocks boost US markets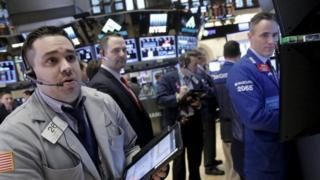 (Close): US markets ended higher on Tuesday, led by gains in the technology and banking as investors gained confidence about the US economy.
The Dow Jones Industrial Average was up 213 points, or 1.2%, to 17,706.
The wider S&P 500 index climbed 28 points to 2,076 - 1.4% better - while the Nasdaq index rose 2% to 4,444 points.
Stocks also got a boost from momentum in Europe, where markets rallied after polls showed rising voter support for keeping the UK in the European Union.
JPMorgan Chase gained 1.8% and Citigroup added 1.7%, while Goldman Sachs was up 1.4%.
On the tech side, Apple climbed 1.5% and Microsoft jumped 3.1%.
Shares in electronics retailer Best Buy fell 7.4% to $31.46 after it forecast lower-than-expected profits for the second quarter.
Shares of seed producer Monsanto climbed 3.1% after it rejected a $62bn offer from German drug maker Bayer.