Mitsubishi restates profits after fuel data scandal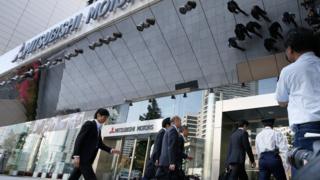 Mitsubishi Motors says its profits for the 2015-16 financial year were lower than first estimated because of costs from the fuel data scandal.
Mitsubishi admitted last month that it had manipulated the test data on four vehicle models for decades.
In a statement, the carmaker said it had estimated the scandal cost it 19.1bn yen ($173m; £118m) last year.
As a result, it says net profits for the year were 72.6bn yen, a fall of 39% from a year earlier.
It had previously estimated a full-year net profit of 89bn yen.
Before the scandal, Mitsubishi was the sixth biggest carmaker in Japan and number 16 worldwide.
More than $3bn has been wiped off Mitsubishi Motors' market value since its admitted overstating the fuel efficiency of its vehicles.
After its share price slumped by more than 50%, rival carmaker Nissan moved in to take a controlling 34% stake in Mitsubishi in a deal valued at 237bn yen.
As part of a management overhaul at Mitsubishi, reports say the firm has also appointed a Nissan executive as its new head of research and development.
Mitsuhiko Yamashita currently serves as senior technology adviser at Nissan and will take on the R&D role from 24 June 24, according to the Reuters news agency.