Nikkei rally runs out of steam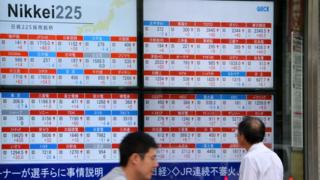 Japan's Nikkei 225 index closed flat, after an earlier rally lost momentum.
The Japanese benchmark index was up more than 1% at one point on Thursday, but closed up just 15.11 points at 16,772.46.
Confidence among Japan's manufacturers fell to a three-year low in May according to a Reuters poll modelled on the official quarterly Tankan survey.
The report attributed the depressed expectations to the rising yen, which hurts the country's exporters.
In China, the mainland Shanghai Composite closed up 7.36 points at 2,822.44 while the Hang Seng in Hong Kong rose 29.06 points to 20,397.11.
In Australia's ASX/200 closed 0.3% higher at 5,388.10, while South Korea's Kospi index finished the day down 3.45 points at 1,957.06.