Wall Street jumps after Yellen speech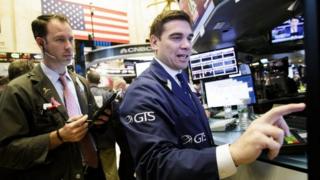 (Close): US markets closed higher on Monday after a speech by Federal Reserve chair Janet Yellen calmed fears that the central bank would raise interest rates this month.
She said there had been positive economic signs, but a weak May jobs report was "disappointing".
The Dow Jones climbed 113.2 points, or 0.67%, to 17,920.3.
The S&P 500 index gained 10.2 points to 2,109.4, while the Nasdaq added 26.2 points to 4,968.7.
The prospect of a rate rise in June diminished on Friday when US unemployment figures showed that just 38,000 jobs were added last month.
Shares in Boeing rose 3.6% after it was reported that Iranair was in talks with the plane maker to buy more than 100 aircraft.
Oil stocks were also higher as the price of crude continued to strengthen, with shares in Exxon up 1.1%. Chevron shares climbed 0.5%.
Retail giant Walmart rose 0.25% after investment bank Jefferies upgraded its rating on the stock to "buy".
Bank shares also rose as the interest rates on bonds bounced back after falling on Friday.
Citigroup's shares climbed 0.77% and JP Morgan rose 1%.