FTSE 100 is boosted by financial firms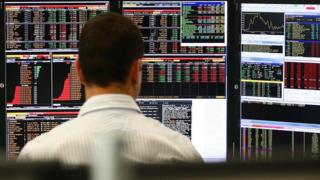 (Close): The market recovered from early losses shares with shares in financial firms among the big winners.
After opening lower, the benchmark FTSE 100 index closed 0.36% higher at 6,226.55.
Standard Life rose 2.5%, Old Mutual closed 2.2% higher and Prudential added 1.7%.
Whitbread shares rose 1.8% after the company reported a pick-up in sales at its Costa Coffee chain.
Like-for-like sales at Costa rose 2.6% in the 13 weeks to 2 June, which Panmure analyst Anna Barnfather described as a "positive surprise".
Shares in Tesco rose 1.7% ahead of the supermarket giant's trading update, due on Thursday.
Shares in mining companies fell as the prices of industrial metals dropped. Anglo American was 1.75% lower while BHP Billiton slipped 0.5%.
On the currency markets, the pound fell 0.2% against the dollar to $1.4663 and was up 0.25% against the euro at €1.3021.