US shares continue post-Brexit rally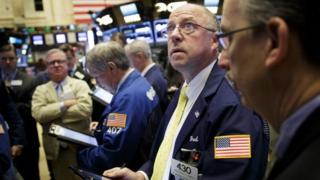 (Close): Wall Street closed higher for the fourth day running, as the major indexes continued to recover from last week's UK vote to leave the EU.
The Dow Jones rose 0.1%, to 17,949.37.
The broader based S&P 500 added 0.2% rising to 2,102.95, while the Nasdaq gained 0.4%, finishing at 4,862.57.
Markets were boosted by unexpectedly positive manufacturing data. The Institute for Supply Management said its purchasing managers index rose from 51.3 in May to 53.2 in June.
That data helped Home Depot's stock climb 1.5%
Visa shares were up 0.42%.
Banks bucked the upward trend, with JP Morgan Chase topping the losers' list, falling 1.4%. Bank of America fell 1.3%.
Shares of chocolate maker Hershey fell 5% after the company rejected a takeover bid from Mondelez, the maker of Oreo and Cadbury.
US markets are closed on Monday for Independence Day.