Energy stocks cause Dow Jones to drop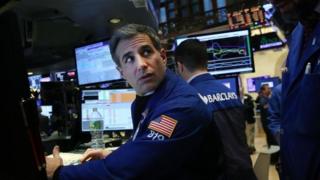 (Closed): US markets were mixed on Thursday, as falling energy stocks dragged down the Dow Jones while rising tech shares boosted the Nasdaq.
At the close of trading the Dow Jones was down 22.74 points to 17895.88, while the S&P 500 index slid 1.83 to 2097.90.
The tech-focused Nasdaq climbed 17.65 points to 4876.81.
Wholesale store Costco helped lead the Nasdaq, climbing 4.9% after it reported better than expected sales in June.
Tech shares also rose. Data storage firm Western Digital was up 4.8% and semiconductor maker Marvell Technology Group climbed 3.5%.
Energy shares were the day's big losers.
Shares of Exxon Mobile fell 1.2%, while Chevron stock was 1.5% lower.
Airline shares climbed after the Department of Transportation approved plans for direct flights from several US cities to Havana- the latest step in easing relations between the US and Cuba.
American Airlines stock was up 3.7%, Delta climbed 2.2% and Southwest Air rose 1.8%.
Shares of Pepsi climbed 1.5% after its quarterly profits beat expectations.
Pepsi reported that second-quarter profits increased by 1.3% to $2bn.
Unemployment figures for June will be released on Friday, but investors appear to be expecting positive news.