US stocks jump on strong jobs data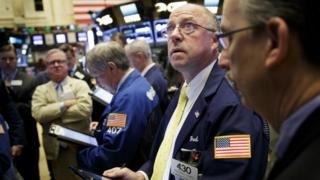 (Closed): Stocks on Wall Street rose as investors welcomed stronger than expected US jobs figures.
The US economy created 287,000 jobs in June, the Labor Department said, rebounding strongly from disappointing growth in May.
The Dow Jones rose 250.86 points to 18146.74.
The wider S&P 500 index climbed 32 points to 2129.90, while the tech-focused Nasdaq was 79.95 points higher to 4956.76.
The dollar also jumped on the back of the jobs figures, as the possibility of a US interest rate rise in the next few months appeared to become more likely.
However, analysts warned that it could still be some time before a rate rise is seen.
"Today's report quells any concerns of a broader economic slowdown in the US," said analysts at Nomura Global Economics in a client note.
Bank shares also climbed on the indication that interest rates may go up soon.
JP Morgan and Wells Fargo gained 2%, while Bank of America shares were up 1.23%.
Consumer retailers also had a strong day. Clothing retailer Gap gained 5% after reporting that sales rose in June.
Wholesale retailer Costco rose 1%.
Shares in its rival PriceSmart lost 8.9% after the company fell short on its third quarter earnings expectations.