London's FTSE 100 hits new 11-month high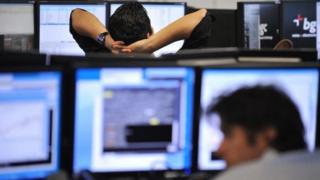 (Close): London's main share index ended higher as a poor set of data fuelled expectations of Bank of England action to boost the economy.
The FTSE 100 index was up by 30 points, or 0.46%, at 6,730.
The latest Purchasing Managers' Index showed manufacturing and services activity plunged in July after the UK's vote to leave the EU, at the sharpest rate in seven years.
That prompted a fall in the pound against the dollar.
The pound was down more than 1% against the dollar at $1.3087. Against the euro it was down 0.5% at €1.1935.
"It wasn't exactly a big surprise to see confidence in both sectors take a hit, but what was a concern was the size of the hit to the services sector, the main engine of growth for the UK economy," said Craig Erlam, senior market analyst at Oanda.
"If we continue to see these kinds of figures in the coming months, the economy could be headed for recession before the year is out," he said.
Vodafone jumps
Augustin Eden, analyst at Accendo Market, said: "The FTSE 100 is actually reacting in a positive manner. That, of course, is down to expectations the Bank of England may apply the economic stimulus markets absolutely love in August."
Shares in Vodafone closed 4.6% higher at 235.5p after the mobile operator said first quarter revenues rose by a better-than-expected 2.2%.
"In Europe, our growth remains stable despite regulatory pressure on roaming revenue, with good performance in Germany, Spain and Italy while we are focused on improving our performance in the UK," chief executive Vittorio Colao said.
It was the top riser on the FTSE, with AstraZeneca and Diageo also among the best performers on Friday.
EasyJet slipped another 3.7% to £10.27 - the biggest faller on the FTSE - after target price cuts from two brokers extended losses in the wake of Thursday's disappointing results.
Analysts at Barclays said: "EasyJet has endured just about everything the external environment can throw at it over the last year, from repeat terrorism to air traffic control strikes, and - most far-reaching of all - the Brexit impact on sterling and demand from its key UK consumer base. Through late summer and into winter, visibility is very hazy, and further downgrades are a distinct possibility."
Marks & Spencer declined 3.6% to 321p after Barclays downgraded the stock to underweight from equal weight and cut its price target from 410p to 290p.
"The new management team's strategy of focusing on customers and product may be the start of a turnaround story, but things can get worse before they get better. We expect a painful transition," said Barclays analyst Christodoulos Chaviaras.