Pound fall to 'hit Rolls-Royce by £2bn'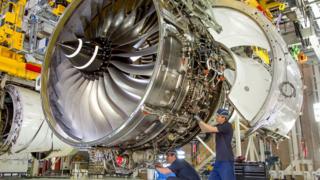 Rolls-Royce will suffer a £2bn writedown this week as a result of the fall in sterling since the EU referendum result, according to analysts.
It comes after Easyjet warned the pound's drop had seen costs rise £40m.
Rolls-Royce's hit is not due to a cost increase, but is instead an accountancy adjustment from the falling pound.
Analysts expect the charge will drag the FTSE 100 firm to a loss when it reports first-half results on Thursday.
The Derby-based aero engine company trades in dollars and takes out complex hedging contracts to protect against currency gyrations.
Hedging
Rolls-Royce booked a £1bn charge on those forex contracts when the pound fell 8 cents against the dollar. Sterling has now fallen 16 cents compared with last year, leading analysts to expect a £2bn charge.
The company, which employs 23,000 workers in the UK, said last month that it expected underlying profit for the first six months of 2016 to be close to breakeven.
The Brexit vote would have "no immediate impact on our day-to-day business", it said.
Rolls-Royce refused to comment on the currency writedown.