Japan shares up on stimulus reports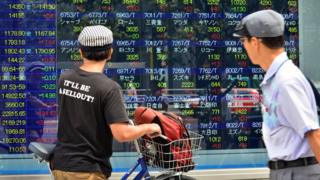 Japan's Nikkei share index closed up nearly 2% on reports that the government will launch a 28 trillion yen ($266bn) economic stimulus package.
The Nikkei ended the day up 281.78 points, or 1.7%, at 16,664.82.
However, in China shares were hit by concerns that regulatory changes to some share trading were on the way.
China's Shanghai Composite index fell 58.17 points to 2,992.00. Hong Kong's Hang Seng turned positive towards the close to end up 89.26 at 22,218.99.
In Australia, the ASX 200 share index closed flat at 5,539.69.
South Korea's benchmark Kospi index dipped 0.1% to 2,025.05.