Tech stocks push higher but Ford falls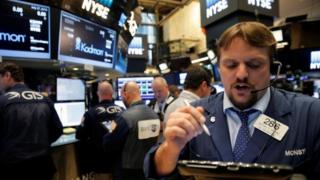 (Close): Technology stocks were mostly higher on Thursday as investors looked to earnings from Amazon and Google's parent company, Alphabet.
The tech-heavy Nasdaq index rose 15.17 points to 5,154.98, while the S&P 500 climbed 3.48 to 2,170.06.
The Dow Jones, however, fell 15.82 points to 18,456.35.
Shares of Alphabet climbed 4.4% and Amazon shares were up 2.2% ahead of the companies' second-quarter reports after the markets closed.
Shares in Facebook closed 1.4% higher after the social media giant reported another set of impressive results late on Wednesday.
Second-quarter earnings surged to $2bn for the April to June period, and revenues of $6.4bn beat analysts' expectations.
"Tech has been pretty much the strongest sector over the last month. Momentum players are focusing to buy on pullbacks," said Michael Matousek, head trader at US Global Investors.
Carmaker Ford saw a dip in its shares after the second-quarter results fell short of expectations.
Ford said the US car market was starting to plateau following an unprecedented growth streak, powered by cheap finance and low fuel costs.
In the last three months, Ford sold 815,000 vehicles in the US - a slight fall on a year ago.
Pre-tax profits from all its markets fell 9% to $3bn.
Boeing dropped 2% after the aerospace firm said it was considering ending its production of 747 airplanes. The company cited shrinking demand for the product.