Energy shares drag Wall Street lower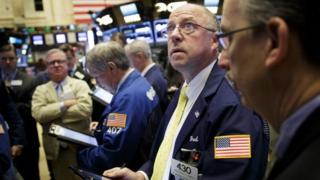 (Close): Shares in oil companies dragged Wall Street lower after the price of crude fell again.
Oil giants Exxon Mobile and Chevron were the biggest fallers on the Dow Jones Industrial Average, with both down by more than 3.4%.
US crude dropped 4% to $40 a barrel after members of the Opec oil producers' cartel signalled they would increase output.
The Dow Jones itself fell 27.73 points to 18404.51.
The S&P 500 index fell 2.76 points to 2170.84, but the Nasdaq index rose 22.06 points to 5184.20 as tech shares soared.
Apple shares climbed to 1.6% and Netflix rose by 3.4%.
Shares in SolarCity fell 7.4% after Tesla announced that it had reached a deal to buy the company for $2.6bn. Shares in Tesla slipped 2%.
US telecoms giant Verizon fell 1.6% after it announced plans to buy Dublin-based GPS firm Fleetmatics for $2.4bn. The announcement came the week after Verizon secured a deal to buy Yahoo's core business for $4.8bn.
Shares of US carmakers were mostly lower ahead of Tuesday's report on car sales in July.
General Motors closed 0.8% lower, while Ford fell 1.4% .