Japanese stocks fall as strong yen hurts exporters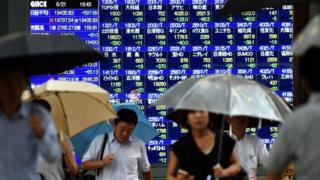 Japanese stocks fell on Wednesday as the strengthening yen put pressure on exporters.
Tokyo's Nikkei 225 index closed down 0.2% at 16,735.12. Weak US productivity data on Tuesday pushed the US dollar down 0.5% against the yen to 101.30.
Shares in carmakers Toyota and Honda and technology giants Sony and Panasonic were all hit.
A stronger yen makes their products more expensive abroad and therefore less competitive on the global market.
In China, the benchmark Shanghai Composite finished 0.2% lower at 3,018.75, while the Hang Seng in Hong Kong ended the day up 0.1% at 22,492.43.
In Australia, the ASX 200 index fell 0.2% to 5,543.70. Shares in the country's biggest bank by market value, Commonwealth Bank of Australia, lost 1.5% despite the lender posting record results on Wednesday.
In South Korea, the benchmark Kospi index ended flat at 2,044.64.