Wall Street rises on Fed expectations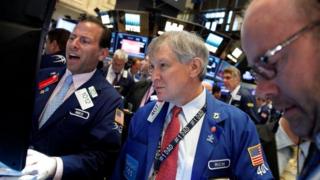 (Close): US shares broke a three-day losing following last week's comments from Federal Reserve head Janet Yellen that economic conditions had "strengthened".
At the annual gathering of central bankers, Ms Yellen said conditions were getting close to the Fed's target for raising interest rates.
The Dow Jones was 0.6% higher at 18,502.99 points.
The S&P 500 climbed 0.5% to 2,180.38, while the Nasdaq rose 0.3% to 5232.33.
Banks, which tend to benefit from higher interest rates, saw their shares rise slightly.
Wells Fargo rose 2.2% and JP Morgan was up 1.1%.
"I think the market's getting more comfortable with the idea that the Fed is going to raise rates this year," said Chris Zacarrelli, chief investment officer at Cornerstone Financial Partners.
US consumer spending rose for a fourth straight month indicating further strengthening in the US economy.
The Commerce Department said spending increased by 0.3% in July after rising 0.5% in June.
Shares of Herbalife rose 4.6% after Friday's announcement by investor Carl Icahn that he bought an additional 2.3 million shares in the health supplement company.