Apple falls on delay to iPhone sales data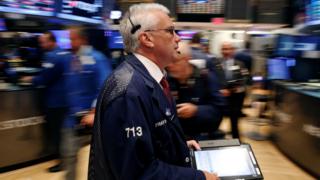 (Close): Shares in Apple fell more than 2% after the tech giant said it would not release figures for the first weekend of iPhone 7 sales.
It is the biggest drop in Apple shares since the UK's Brexit vote sparked a mass selloff on global stock markets.
"Less data is never good, particularly given the question marks around this phone," said BGC Partners analyst Colin Gillis.
Apple unveiled the latest iPhone on Wednesday amid slowing handset sales.
Shares in Google parent company Alphabet dipped 0.6% after the search engine giant announced a $625m takeover of software developer Apigee to strengthen its cloud computing business.
The tech-focused Nasdaq fell 24 points to 5,259.
The Dow Jones lost 47 points to 18,479, while the S&P 500 shed 5 points to 2,181.
Energy stocks rose in tandem with the oil price, which jumped more than 4%.
US crude was up by $1.94 to $47.44 a barrel after government figures showed a surprise drop in US oil stockpiles last week.