The tricky issue of problem gambling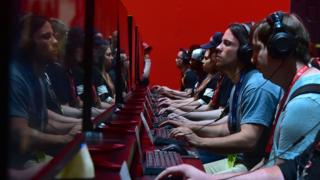 For David Bradford, his gambling addiction had got as bad as it possibly could.
The 57 year-old was in prison for fraud after stealing £50,000. His habit had cost his family their home and left them buried under £500,000 of debt.
For 888.com, however, there was more to be had out of David Bradford.
While he sat in jail, his son Adam saw that the online gambling company was sending adverts to his father's mobile phone, at a cost of £5 a time.
Adam Bradford says: "After calling them six times and pleading with them, they switched off the text messages after almost £100 worth of charges."
Dr Carolyn Downs, senior lecturer at Lancaster University who is an expert on the gambling industry, estimates that there are around 500,000 people in the UK with a "severe" addition.
"And for each of those people with severe problems, you're looking at four or five other family members being severely affected. Who perhaps don't know that their family member is a problem gambler until they lose the house, " she told BBC Radio 4's Today programme.
Theft
On Thursday, 888 Holdings, which owns 888.com, was fined a record £7.8m by the Gambling Commission for failing to protect thousands of vulnerable customers who had tried to "self-exclude" themselves from their websites.
The regulator also penalised 888 for failing to recognise problem behaviour that resulted in one person stealing £55,000 from their employer.
Sarah Harrison, chief executive of the regulator, said: "Messages like this send a strong signal to companies like 888 and every gambling operator that the Gambling Commission will take tough action against companies who don't meet the rules."
However, the Gambling Commission wouldn't have known about any of these problems had 888 Holdings not stepped forward in the first place.
In the regulator's public statement on the matter, it says that it was 888 Holdings who notified the commission about the technical problem on 28 February 2017.
Asked how it ensures that gambling companies are following a code of practice which requires them to put self-exclusion procedures in place as well as identifying at risk customers, the regulator, said: "The commission carries out regular compliance activity in a number of ways.
"In addition, we sometimes act on information from customers or operators themselves that prompts us to carry out an investigation, as in this case."
Self-exclusion or delusion?
In 888's case, the fault lay with a technical issue.
Customers with acknowledged problems had effectively blocked themselves from gambling on the poker, casino and sports sites.
But they still had access to the bingo sites.
However, even with this loophole now closed, there remains a wider industry problem with self-exclusion, says Dr Downs.
She said: "It was difficult to do with online gambling, even to find a place on a website to actually go to tell them you want to self-exclude... it quite often requires an awful lot of clicks with a mouse around the web site to find a place."
And just because a person is excluded from one means of gambling, it doesn't give them any protection against other methods.
In some instances, self-exclusion is simply farcical.
Tony Franklin, a recovering gambling addict and a campaigner, says: "Self-exclusion from betting shops is paper-based so they are reliant on you providing a photograph of yourself. Then, it might only be circulated to a small number of betting shops in the area."
It is very easy to go to another town to bet, he says, and it is very difficult for the people working in bookmakers to police their customers.
Dr Downs proposed a national register for self-exclusion: "The Gambling Commission could run this," she says: "If you wanted to self-exclude you would send your details off on a simple form to the Gambling Commission and they would let everybody know your email address."
But she adds: "I don't think there's any sort of will for that action. Problem gamblers provide most of the profit for the gambling industry and that's really quite well known."
The Gambling Commission says the industry is working on a national "online multi-operator self-exclusion scheme" which it is aims to have in place by 2018.
At the moment, consumers must to each individual site to ask the company not to allow them to gamble. The commission says: "The new scheme will enable consumers to self-exclude from all online licensed betting operators via one web site."
GAMSTOP, as it is called, will be run by the Remote Gambling Association (RGA), a group whose members are online gambling companies.
Adam Bradford questions the wisdom of this. "It is like asking a policeman to arrest himself for a crime."
Clive Hawkswood, chief executive of the RGA, denies that there is a conflict of interest. "On the contrary it is very much in our interests and our aim is to make it as good as any system in the world," he says.
The Gambling Commission says: "We consider an industry-led and managed solution is best placed to deliver an effective and efficient scheme by building, in particular, on the core experience and expertise in the industry of developing and overseeing large IT solutions, as well as administering current self-exclusion schemes."
Mr Franklin thinks betting companies need to take stronger action before allowing people to bet, such as conducting an affordability check on potential customers.
This, he believes, should be outsourced to a third party such as credit checking company Experian.
Liberalising problems
At the moment, however, Mr Franklin says people will remain vulnerable to an industry whose main aim is to make money.
Dr Downs says: "I think legislation is absolutely the only answer. I think when we liberalised the gambling industry - as was predicted by a number of people at the time - we liberalised many more problem gamblers."
For Mr Franklin, he says: "Never again. Not ever will I give one more pound to these people."
888 Holdings declined to comment on individual cases. Its response to the action taken by the Gambling Commission can be accessed here.