Rates weigh on Wall Street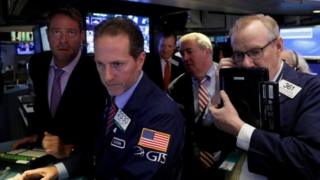 US markets fell on Thursday as investors reacted to the Federal Reserve's decision to trim its bond holdings and its signalling of another possible rate rise this year.
Financial firms, which tend to benefit from higher rates, gained, but most other sectors finished lower.
The Dow Jones slid 53.36 points, or 0.24%, to 22,359.23.
The wider S&P 500 dropped 7.64 points, or 0.3%, to 2,500.60.
The tech-focused Nasdaq index fell 33.35 points or 0.52% to 6,422.69.
The downward slide marked a departure from the gains in recent days.
US stocks have been trading in record territory, but some analysts say they do not expect to see significant future increases - at least until the onslaught of company results due in the autumn is over.
"We continue to believe that equities are in a muddle-along zone leading up to third quarter earnings in mid-October," Terry Sandven, chief equity strategist at US Bank Wealth Management, wrote in a recent note.
Analysts expect the Fed's decision to start running down its investment holdings to result in slight upward pressure on long-term borrowing costs. In theory, that could also make stocks slightly less attractive investments.
Apple, which has reported troubles with its new watch, was among the firms that weighed on the index on Thursday.
Shares in the tech giant fell 1.7%, after the company said on Wednesday it was working to fix "connectivity" issues in the watch, which is designed to link to mobile networks.