Wall Street sees worst session in weeks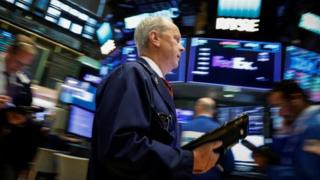 Lower energy prices and disappointing corporate earnings pulled stocks lower on Wednesday as Wall Street suffered its worst trading session in weeks.
Indexes fell from recent highs as losses touched every industry sector.
The Dow Jones, which had hit a record on Tuesday, fell 112.3 points or 0.48% to 23,4329.46.
The S&P 500 index fell 11.9 points or 0.47% to 2,557.15, while the Nasdaq index fell 34.5 points or 0.52% to 6,563.89.
Telecommunication, industrial and financial stocks led the losses,
Among individual companies, Chipotle was one of the biggest losers.
Its shares tumbled by more than 14% a day after the restaurant chain reported weaker-than-expected quarterly sales and said it would open fewer stores next year.
The firm has been trying to revive its reputation after a series of food safety lapses.
Shares in Boeing also fell nearly 3%, after the firm told investors that costs for its KC-46 aerial refuelling tanker program would be more expensive than it previously said.