Hurricanes dent profits at insurance giant Munich Re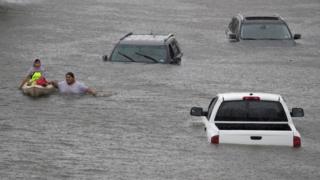 One of the world's biggest insurance firms has said it will take a loss in the third quarter because of hurricanes Harvey, Irma and Maria.
Munich Re expects the hurricanes that ravaged parts of the US and the Caribbean to cost it €2.7bn (£2.4bn) owing to major loss expenditure.
The firm, which insures other insurance companies, said estimates were "still fraught with considerable uncertainty".
The insurer now projects a "small" profit for 2017 because of the claims.
"High losses from severe natural catastrophes are part and parcel of our business," said Joerg Schneider, chief financial officer of Munich Re. "We will continue to offer our clients full reinsurance capacity."
Mexican earthquakes and other disasters will take overall losses for the quarter to about €3.2bn.
Munich Re is not the first major insurance company to see its profits dented by the hurricanes.
Swiss firm Zurich Insurance this month estimated the three hurricanes would result in about $700m (£529m) in claims for the quarter, with losses expected to reach about $620m.
Swiss Re projects that claims from the hurricanes coupled with the earthquakes in Mexico may reach up to $3.6bn.