Subaru admits safety check deficiencies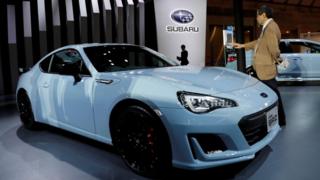 Japanese carmaker Subaru has said it failed to follow proper procedures for inspecting domestic models.
The firm said it was considering a recall of about 255,000 vehicles after admitting final checks on them had been conducted by uncertified technicians.
This means they were in violation of rules drawn up by Japan's transport ministry.
The revelation follows a similar scandal at rival Nissan earlier this month.
Nissan suspended production for two weeks and recalled 1.2 million cars.
Two other car companies, Toyota and Honda Motor, have told the ministry that they found no problems with their inspection procedures.
Built at home
"The final inspection process is very important and we acknowledge that we did not meet requirements," Subaru chief executive Yasuyuki Yoshinaga told a news conference in Tokyo.
"We used the same process for more than 30 years without realising that it did not meet ministry requirements."
Subaru said it expected a recall to cost 5bn yen (£33.5m; $44m).
Unlike most other Japanese carmakers, it still makes the overwhelming majority of its cars in Japan. Nearly 75% of its production worldwide comes from a factory complex in Gunma prefecture, north of Tokyo.
Subaru's only foreign plant is in the US city of Lafayette, Indiana.