Tax progress lifts Wall Street stocks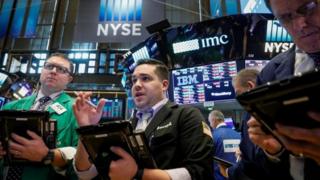 Wall Street indexes closed at record highs on Tuesday, recovering after plunging on news that North Korea had fired another missile towards Japan.
It was the first launch since September, but markets brushed off the incident.
The Dow Jones rose 255.9 points or 1.09% to 23,836.7 and the S&P 500 climbed 25.6 points to 0.98% to 2,627.
Meanwhile, the tech-heavy Nasdaq index gained 29.7 points or 0.4% to end the day at 6,908.2.
Analysts said markets were buoyed by Senate progress on a plan to cut US corporate taxes from 35% to 20%.
They were also responding to remarks from Federal Reserve Chair nominee Jerome Powell, who offered an upbeat assessment of the US economy at a confirmation hearing on Tuesday.
He said he expects further interest rate increases and described his intent to review some of the crisis-era financial rules imposed on banks.
Financial companies, which would benefit from both those developments, led the gains on Tuesday.
JP Morgan Chase saw the steepest rise on the Dow, closing up 3.5%.
Shares in Buffalo Wild Wings jumped 6.28% after the owner of restaurant chain Arby's, Roark Capital Group, said it had agreed to buy the company for $2.4bn (£1.8bn).