EasyJet's new chief kicks off reign with positive news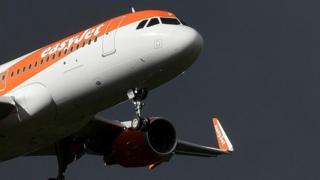 EasyJet's new chief executive, Johan Lundgren, has kicked off his reign with a strong set of trading figures.
The airline reported a 14.4% jump in revenues to £1.1bn for the three months to 31 December.
Passenger numbers rose by 8% to 18.8 million in the same period. The upbeat numbers sent EasyJet shares 5% higher.
Mr Lundgren, appointed in November, also announced management changes, including the departure of chief commercial officer Peter Duffy.
The airline looks to have benefited from a re-shaping of the industry last year, helping to support fares and keep flights full.
Last year, Monarch airline collapsed, Ryanair cancelled flights due to a pilot shortage, and Air Berlin and Alitalia went into administration.
"Clearly there has been less competitive pressure on certain routes," Mr Lundgren told reporters.
Analysis: Victoria Fritz, BBC transport correspondent
It's a case of survival of the fittest in the airline industry at the moment. Attractive leasing arrangements with low interest rates mean that there are more new planes in circulation. Lower fuel prices mean older planes are now more economical to run.
Yet in order to fill all these planes, airlines have had to cut fares. Some haven't been able to make the numbers stack up. Monarch Airlines, Air Berlin and Alitalia all went bust last year.
Those bankruptcies have fuelled growth at EasyJet by taking some of that excess capacity out of the market. A stronger pound has also helped lift the numbers at EasyJet. Roughly half of sales come from the UK.
Management reshuffle
The departure of Mr Duffy - a contender for the chief executive's job after the incumbent Carolyn McCall moved to ITV - follows Mr Lundgren's decision to move responsibility for pricing and revenue management from the commercial department to the airline's strategy and network director, Robert Carey.
A new role of chief data officer has been created, with responsibility for coordinating the airline's management of data to improve the customer experience, drive revenue, reduce costs and improve operational reliability.
Mr Lundgren said in a statement that EasyJet would "continue to focus on cost" after generating approximately £28m of savings in the quarter.
"Our customer proposition will continue to drive both passenger growth and loyalty.
"We have great revenue growth, strong cost control, a robust operation and a strong balance sheet."