Davos 2018: UK should go for soft Brexit, says Norway PM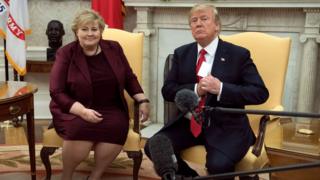 The Norwegian Prime Minister, Erna Solberg, has told the BBC that Britain should push for a "soft Brexit" and that close ties to the European Union (EU) are very important for the UK and the European economy.
She said that Norway would not object to a "bespoke deal" between Britain and the EU given the economies are so interconnected.
But she said it had to be fair and that Norway, which is involved in the Brexit negotiations, would want the same access to the UK as any other EU country.
Speaking at the World Economic Forum in Davos she also said that Norwegian citizens should receive the same rights as EU citizens post-Brexit.
Asked if she was concerned that Britain could end up with a better deal than Norway - which is not in the EU but is bound by many EU regulations as part of the European Economic Area (EEA) - Ms Solberg said that "it was not possible to have a special deal better than the EEA".
She said it was unlikely that the UK would follow the Norway model because "I hear that the four freedoms [the EU's rules on the free movement of goods, capital, services and people] are an obstacle".
She said Norway was Britain's friend and wanted to see a good deal.
Turning to the visit of Donald Trump on Friday, Ms Solberg said that she hoped to hear a message that was pro-global trade rather than talk of barriers.
She criticised the president's push for bilateral trade agreements and said that for small countries like Norway "it was not the way to go".
Ms Solberg argued that the US should not have pulled out of the Paris Agreement on climate change, but in response other national members had been "galvanised" to work harder together to make the agreement work.