Marks & Spencer pushes FTSE higher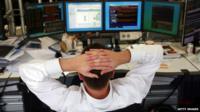 (Open): Marks & Spencer helped push the London market higher on Thursday morning, after the retailer announced a rise in non-food sales for the first time in almost four years.
M&S shares rose 5.6% after so-called general merchandising sales rose by 0.7% on a like-for-like basis in the three months to the end of March.
Bottling company Coca Cola HBC also performed well, rising 3.7%.
The benchmark FTSE 100 was up almost 15 points, or 0.2%, at 6,824.36.
On the downside, Easyjet was 1.6% lower.
M&S saw overall sales rise by 1.9% over the quarter, with like-for-like food sales also up 0.7%. Online sales jumped nearly 14%, returning M&S.com to growth.
Outside the main index, drug company BTG was up 6% after raising its annual revenue forecast.
On the currency markets, the pound was up two-tenths of a cent against the dollar at $1.4840, while against the euro, it was down more than half a cent at €1.3718.