ECB bond buying hint lifts FTSE higher
3 September 2015

From the section

Business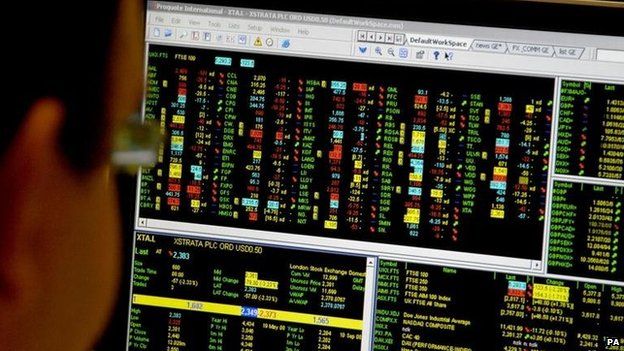 (Close): Shares in London closed higher after the European Central Bank (ECB) hinted it could extend its €60bn a month bond buying program.
UK shares had already recorded strong gains throughout the day.
Airline Easyjet led the way seeing its share price rise 5.4% after it forecast profits of between £675m and £700m thanks to record traffic figures.
Other airline stocks were lifted by the news, with shares in British Airways owner IAG climbing 4.6%.
London's blue chip index closed 1.8% higher at 6194.10 after ECB president Mario Draghi said the central bank's bond buying programme could be extended beyond its planned conclusion in September 2016 if necessary
The ECB made no change to its bond-buying programme nor to the interest rate for the eurozone currency bloc.
it also cut its inflation and growth forecasts for 2015 and the next two years saying it now expects inflation in the eurozone to remain "very low" for several years.
At home shares in Morrisons rose 4.7% on speculation the supermarket group could become a bid target. It followed a report in the Daily Telegraph which said South African billionaire Christo Wiese was eyeing the UK's supermarket sector.
In the FTSE 250, shares in car dealership Lookers rose 9.2% after it announced it was buying rival Benfield for £87.5m.
Benfield employs 1,600 people in 30 dealerships located across the North of England and Scotland.
Shares in transport group Go-Ahead were down 5.3%. The company reported that full-year pre-tax profits had fallen to £78.7m from £91.2m, and also said it would achieve operating profit of £100m at its bus division in 2016-17, a year later than planned.
On the currency markets, the pound weakened at first following the release of the survey which indicated that growth in the UK's service sector slowed in August.
However, sterling then regained much of the ground lost. By midday, the pound was down 0.33% against the dollar to $1.52490, and 0.8% higher against the euro to €1.37360.