Markets
FTSE 250
As of 15:07 20 September 2017 - Market open
index value

19537.83
index change:

2.35
index change percentage: up

0.01%
Open

19535.48
Previous close

19535.48
52 week high

20024.92
52 week low

17271.24
All market data carried by BBC News is provided by Digital Look. The data is for your general information and enjoy indicative status only. Neither the BBC nor Digital Look accept any responsibility for their accuracy or for any use to which they may be put. All share prices and market indexes delayed at least 15 minutes, NYSE 20 minutes.
Previous close
Latest updates
London Market Reports
Today 20.09.2017
12:14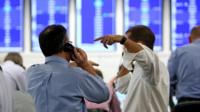 Shares in the retail group add 6.7%, despite its reporting of a 5.9% fall in half-year profits.
11:14
London stocks flat
The FTSE 100 is largely unchanged at mid-morning trading, with the blue chip index down 7.6 points at 7,267.5.
Kingfisher and Diageo continue to lead the risers and fallers respectively.
Shares in the B&Q and Screwfix-owner are ahead 5.4%, or 16p, at 312.4p after announcing its results for the first six months of the year.
Shares in the world's largest drinks maker extended their losses to trade 2.1% lower at £24.42 after admitting a late Chinese New Year (pictured) would hit first-half sales.
The pound is up 0.3% against the dollar at $1.3550 and 0.1% up on the euro at 1.1281 euros.
08:27
Kingfisher takes flight
Kingfisher shares soared in opening trade on Wednesday after it announced its interim results.
The B&Q and Screwfix owner's share price rose 5.4% to 312.5p, leading the FTSE 100 risers.
Diageo's warning that a later Chinese New Year and a ban on roadside alcohol sales in India would impact first half sales sent its shares down 1.6% at £24.55.
Overall, the FTSE 100 briefly opened higher before falling 6 points to 7,269.2.
In contrast, the FTSE 250 edged 11.3 points higher to 19,546.8.
Yesterday 19.09.2017
16:55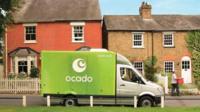 The market edges higher but Ocado shares fall as it warns of higher costs.
16:55
FTSE 100 closes higher
Marks & Spencer led the FTSE 100 higher, up 3.53% on the back of industry data showing that some retailers are seeing stronger sales. Travel company TUI was the biggest loser. Its shares fell 2% on reports of cost-cutting.
The FTSE 100 closed up 0.23% at 7,270 points. The mid-cap FTSE 250 finished 0.5% higher at 19,535.4.
12:03
Retailers lead FTSE higher
Retailers topped the FTSE 100 index as lunchtime nears, boosted by data from Kantar Worldpanel showing a rise in supermarket sales to 10 September.
Marks & Spencer shares are 2.8% higher to 338p, while Sainsbury's is ahead by 2.4% at 242.8p.
Bottling company Coca-Cola HBC leads the fallers, down 1.6% at £25.33, followed by BT Group, 1.4% lower at 283.4p.
Overall the FTSE 100 is up 21.67 points at 7,274.95 and the FTSE 250 is also ahead, up 70.90 points at 19,508.75.
08:06
Breaking
FTSE slips
The FTSE 100 is down a touch as trading begins, falling 6.2 points to 7,245.1.
Oddly enough, Ryanair shares are up 0.8% at £16.70 in London despite the airline's cancellation chaos.
Ocado is down 2.2% despite reporting higher revenues, while French Connection has dipped about 1%.
18.09.2017
22:15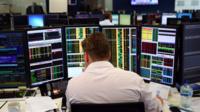 Shares in the defence company rise after Qatar signs a letter of intent to buy 24 Typhoon jets.
15.09.2017
12:26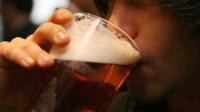 The pub group reports rising sales and profits, with strong trading over summer.
14.09.2017
17:14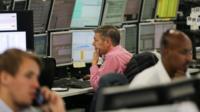 Suggestions that UK interest rates could rise later this year push sterling higher but hit shares.
Back to top