Markets
FTSE 250
As of 18:33 28 May 2017 - Market closed
index value

20024.92
index change:

57.34
index change percentage: up

0.29%
Open

19967.58
Previous close

20024.92
52 week high

20050.68
52 week low

14967.86
All market data carried by BBC News is provided by Digital Look. The data is for your general information and enjoy indicative status only. Neither the BBC nor Digital Look accept any responsibility for their accuracy or for any use to which they may be put. All share prices and market indexes delayed at least 15 minutes, NYSE 20 minutes.
Previous close
Latest updates
London Market Reports
26.05.2017
17:07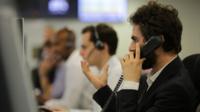 The FTSE 100 and FTSE 250 both hit record highs as the pound loses ground.
25.05.2017
17:19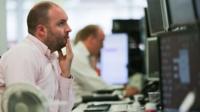 Shares in the budget airline finish 13% higher after reporting record profits for the past year.
24.05.2017
17:10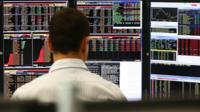 London's benchmark stock market closes up while pound falls against both the dollar and euro.
23.05.2017
16:57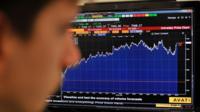 London's stock market dips at the finish on Tuesday after spending the day in positive territory.
22.05.2017
16:56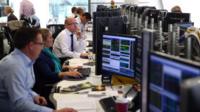 The UK's benchmark share index sees broad-based gains as the pound fluctuates around the $1.30 mark.
19.05.2017
16:58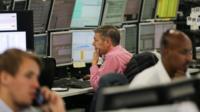 The UK's benchmark share index is on track for its fourth straight week of gains.
18.05.2017
17:32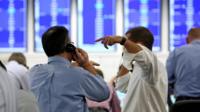 The political controversy in the US continues to weigh on investor confidence, dragging shares lower.
17.05.2017
16:55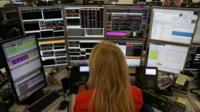 In Wednesday trade in London, the benchmark index closed lower, breaking its winning streak.
13:16
FTSE 100 flatlines
The FTSE 100 has been flatlining for the last few hours, and is now 0.08% off at 7,515.87 points. Lloyds, up 2.38%, remains one of the main gainers as the bank basks in the news that it is officially out of public hands. Meanwhile, the FTSE 250 is 0.16% down at 19,843.2.
16.05.2017
17:18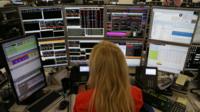 London's main share index hits another closing high as pound weakness continues.
Back to top