Markets
FTSE 250
As of 19:49 24 March 2017 - Market closed
index value

18980.44
index change:

-21.83
index change percentage: down

-0.11%
Open

19002.27
Previous close

18980.44
52 week high

19151.80
52 week low

14967.86
All market data carried by BBC News is provided by Digital Look. The data is for your general information and enjoy indicative status only. Neither the BBC nor Digital Look accept any responsibility for their accuracy or for any use to which they may be put. All share prices and market indexes delayed at least 15 minutes, NYSE 20 minutes.
Previous close
Latest updates
London Market Reports
Today 24.03.2017
17:31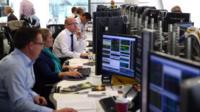 The UK market ends lower as investors remain cautious ahead of a key vote in the US Senate.
08:20
FTSE 100 holds steady
No dramatic moves for the FTSE 100 in the early going. The benchmark index is holding steady at 7,340.
Next shares have eased 1% lower after soaring almost 9% on Thursday.
Analysts had been keeping an eye on a vote by US lawmakers on healthcare, seen as a key test of President Donald Trump's politicial agenda. That vote was supposed to be on Thursday but has been delayed until today.
Ian Williams at Peel Hunt says that investors are likely to be "nervous" before that vote.
Yesterday 23.03.2017
17:45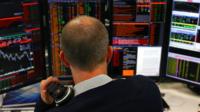 Shares in Next climb by 8% despite the company reporting its first fall in profits for eight years.
22.03.2017
17:31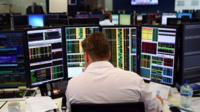 The FTSE 100 closes more than 50 points lower, following Wall Street down and extending Tuesday's losses.
12:01
'Little justification' for record share levels
Analysts are looking ahead to the open of trading on Wall Street at 13:30 GMT.
"The rest of the day's trading will likely be dependent on how the Dow Jones fares after the bell rings on Wall Street," said Connor Campbell from SpreadEx.
"After stagnating for most of March the Dow suffered a near 300 point drop on Tuesday, taking it to its lowest level in nearly a month; that fall has arguably been coming, with little in the way of justification – bar blind Trump optimism – to keep it so close to its record peak," he added.
11:14
Oil prices slump
Crude oil prices continue to fall.
North Sea Brent Crude is down 80 cents or 1.6% at $50.16 per barrel.
On Tuesday the American Petroleum Institute reported a bigger than expected rise in US oil inventories last week.
That helped give traders the jitters, who had been hoping that supplies of oil were getting tighter, thanks to promised cuts in production by big oil producers, including OPEC nations.
"WTI crude [the US benchmark] may be in store for further punishment moving forward with production in the United States rising consistently and the inflated inventories simply counteracting the efforts of OPEC to stabilize the oil markets," said FXTM research analyst, Lukman Otunuga.
08:10
FTSE 100 down; Kingfisher slides
The FTSE 100 has kicked off with modest losses, down 0.6% at 7,332. That follows a sharpish loss for shares on Wall Street on Tuesday.
Kingfisher is one of the big losers with a 3% fall.
However the owner of B&Q was cautious about the outlook for this year.
21.03.2017
18:01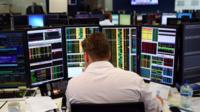 FTSE 100 ends lower as a rise in sterling on the back of UK inflation data sparks worries about corporate profits.
09:42
Pound rallies against dollar
The pound rose against the dollar after those stronger-than-expected UK inflation figures.
It added more than a third of a cent to trade at $1.2458, after the numbers came out.
That's the highest level since late February.
20.03.2017
17:28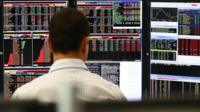 Sterling dips, but the FTSE 1000 posts yet another record high as investors favour consumer-focused firms.
Back to top