Markets
FTSE 250
As of 04:46 25 February 2017 - Market closed
index value

18588.64
index change:

-54.84
index change percentage: down

-0.29%
Open

18643.48
Previous close

18588.64
52 week high

18827.20
52 week low

14967.86
All market data carried by BBC News is provided by Digital Look. The data is for your general information and enjoy indicative status only. Neither the BBC nor Digital Look accept any responsibility for their accuracy or for any use to which they may be put. All share prices and market indexes delayed at least 15 minutes, NYSE 20 minutes.
Previous close
Latest updates
London Market Reports
Yesterday 24.02.2017
16:55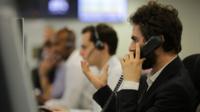 RBS is the largest faller in the FTSE 100 after it reports its ninth straight year of losses.
23.02.2017
18:00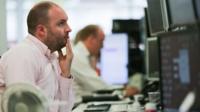 Easyjet, Rio Tinto and HSBC lead London lower, while shopping centre owner Intu Properties jumps.
12:29
FTSE slightly lower
The FTSE 100 is still slightly lower just after midday, having fallen 0.10% to 7294.84.
A number of big firms have gone ex dividend today, which means their shares fall by a corresponding amount to the dividend due to be paid.
Easyjet is down 5.6%, Rio Tinto has shed 3.19%, and HSBC is 2.18% lower.
Barclays is now trading 1.93% higher after a particularly strong set of results sent its shares up more than 3% earlier.
Shopping centre operator Intu Properties has jumped 6.43% after earnings beat expectations and it hiked its dividend.
22.02.2017
17:45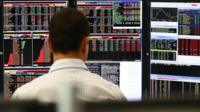 Unilever is top gainer on the London market after announcing a far-reaching review.
16:55
Unilever and Lloyds boost FTSE 100
The FTSE 100 closed higher thanks to strong performances from Lloyds Bank and Unilever. 
The benchmark index gained 0.38%, or 27.42 points, to 7,302.25 points.
Unilever was the best performer, rising 4.96% after the company promised a new growth strategy following its rejection of a takeover bid by Kraft Heinz last weekend. 
Lloyds meanwhile gained 4.39% after announcing its profit for last year was up 158%.
The bank's figures were helped by a reduction in payment protection insurance provisions. 
21.02.2017
17:07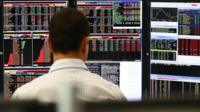 Share prices in London fell back slightly on Tuesday with the FTSE 100 index closing 25 points lower at 7,275.
20.02.2017
16:55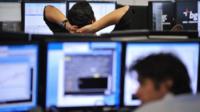 The London market struggles on Monday as Unilever shares fall sharply.
11:47
FTSE slips as Unilever slides
After a decent start the FTSE 100 is now in negative territory, trading 0.16% lower at 7,288.18 points.
Connor Campbell, an analyst at SpreadEx, says there are two main reasons for the sluggishness.
"Firstly, [there's] the rather substantial 7% loss by Unilever following Kraft Heinz's abandoned merger attempt - though it must be noted that the Marmite maker has still benefited from the bid, keeping hold of a decent chunk of last Friday's growth," he says. 
"Secondly the pound has clawed back a portion of the losses it incurred following last week's disappointing retail sales, with sterling climbing 0.4% against the dollar and 0.3% against the euro."
A weak pound can boost big FTSE-listed companies which generate much of their income in foreign currencies. 
17.02.2017
17:13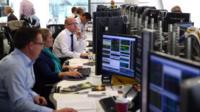 A 10% surge in Unilever shares lifts the FTSE 100 into positive ground on news it rejected Kraft's bid.
16:57
Unilever pushes FTSE 100 higher
The FTSE 100 closed higher after the pound fell against the dollar and Unilever shares jumped following a takeover bid. 
The index gained 0.3%, or 22.04 points, to 7,299.96.
Unilever was by far the best performer, gaining 12.6%, while bottler Coca Cola HBC and tobacco firm Imperial Brands climbed 2.71% and 2.47% respectively. 
The pound fell 0.55% to $1.24210 after a weak set of retail sales figures, although it held up against the euro. 
A weak pound boosts the FTSE 100, as many of its constituents make their profits in foreign currencies. 
Back to top