Markets
FTSE 100
As of 11:07 26 April 2017 - Market open
index value

7272.32
index change:

-3.32
index change percentage: down

-0.05%
Open

7275.64
Previous close

7275.64
52 week high

7429.81
52 week low

5923.53
All market data carried by BBC News is provided by Digital Look. The data is for your general information and enjoy indicative status only. Neither the BBC nor Digital Look accept any responsibility for their accuracy or for any use to which they may be put. All share prices and market indexes delayed at least 15 minutes, NYSE 20 minutes.
Previous close
Latest updates
London Market Reports
Today 26.04.2017
08:34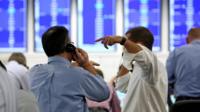 The miner is the worst performer on the benchmark index, despite rising silver production.
Yesterday 25.04.2017
18:46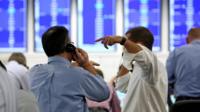 FTSE 100 index closes 11 points higher at 7,276.
17:22
FTSE 100 closes higher
UK stocks edged higher on Tuesday as a Europe-wide rally after the first round of the French election lost steam. 
The blue-chip FTSE 100 index ended up 0.15%, with financials, energy and healthcare stocks supporting gains. 
Among the top risers were Hikma Pharmaceuticals, up 3.42%, miner Glencore, up 2.19% and medical products maker Convatec Group, up 1.8%.
However, shares in Whitbread slumped 7.13% after it reported annual results. 
Profits at the Costa Coffee-owner rose, but it said it remained "cautious" about prospects for the next 12 months.
24.04.2017
17:59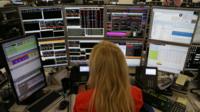 Shares across Europe see sharp gains following the first round of France's presidential election.
12:58
Breaking
Market rally continues
The market rally on the back of Emmanuel Macron's victory in the first round of the French presidental election continues. 
The FTSE 100 has held onto its gains to be up 1.7% at 7,236 points. On the continent it's a similar story with France's CAC-40 still 4.5% higher and Germany's DAX up almost 3%.
Energy firms are the biggest FTSE losers due to government plans to cap household energy bills. Centrica is down 4.5%, with SSE off 3.2%.
21.04.2017
17:42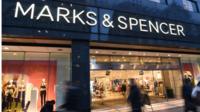 London share prices slumber on a quiet day for corporate and economic news.
20.04.2017
17:10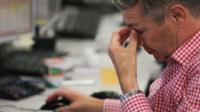 London share prices slumbered as the UK general election got underway in earnest.
19.04.2017
17:22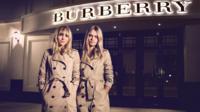 London's blue-chip index falls again, with Burberry tumbling almost 8%.
18.04.2017
21:37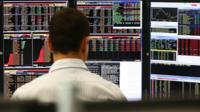 Sterling nears $1.2850 after Theresa May announces an election for 8 June, but shares suffer.
13:37
Pound 'the big winner' from election news
The pound is up about 0.8%, buying $1.267, after Theresa May's snap election announcement.
Laith Khalaf of Hargreaves Lansdown says:
"The pound was the big winner from news that a UK general election is in the pipeline, as currency markets bet on the current government winning a greater majority.
"The rising pound helped heap pressure on the UK stock market, which was already on the back foot thanks to declining iron ore prices hitting the resources sector."    
Back to top