Markets
FTSE 100
As of 16:22 21 October 2017 - Market closed
index value

7523.23
index change:

0.19
index change percentage: up

0.003%
Open

7523.04
Previous close

7523.23
52 week high

7560.04
52 week low

6693.26
All market data carried by BBC News is provided by Digital Look. The data is for your general information and enjoy indicative status only. Neither the BBC nor Digital Look accept any responsibility for their accuracy or for any use to which they may be put. All share prices and market indexes delayed at least 15 minutes, NYSE 20 minutes.
Previous close
Latest updates
London Market Reports
Yesterday 20.10.2017
16:47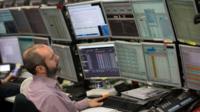 The benchmark share index comes within range of hitting a fresh high, but closes just 0.19 points up.
19.10.2017
17:38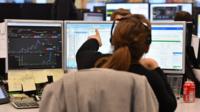 Sales growth at the consumer goods giant slows as it is hit by poorer weather in Europe and US hurricanes.
18.10.2017
18:27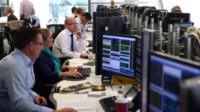 The education publisher continues to rise as investors take heart from its latest trading statement.
12:39
FTSE helped by weaker sterling
The FTSE 100 is up about 25 points at 7,542, helped by a 0.15% fall in the pound to $1.3170.
The ONS said UK wage growth edged above forecasts, bolstering expectations for a Bank of England rate hike before the year is out.
Shares in household products giant Reckitt Benckiser were down about 1.3% after the firm cut its full-year sales forecast. Reckitt is struggling with fallout from a cyber attack, a failed product launch and a safety scandal in South Korea.
The biggest faller on the blue-chip index is Merlin Entertainments, off 2.1% after brokers cut their target prices after it reported meagre like-for-like growth yesterday.
08:08
FTSE higher
The FTSE 100 has made modest gains as trading gets underway, adding 0.2% to 7.529 points.
Reckitt Benckiser has slipped 2% following that slide in sales, but Foxtons is up 2.8%.
17.10.2017
16:56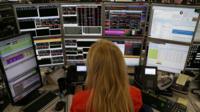 The pound drops as the Bank of England's new deputy governor says he is not close to backing a rate rise.
13.10.2017
17:33
A profit warning from the engineering firm sends its shares down sharply and weighs on the market.
12.10.2017
17:07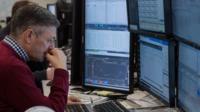 Comments from Michel Barnier that Brexit talks are at a "deadlock" send sterling lower.
16:51
FTSE ends at new high
The FTSE 100 has closed at a record high of 7,556.24 points, partly following a fall in sterling sparked by concerns about the state of Brexit negotiations.
11.10.2017
17:06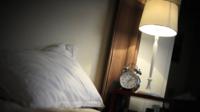 Shares in the soft furnishings retailer jump, while Mondi slides after warning on profits.
Back to top