Markets
FTSE 100
As of 20:52 28 March 2017 - Market closed
index value

7343.42
index change:

49.92
index change percentage: up

0.68%
Open

7293.50
Previous close

7343.42
52 week high

7429.81
52 week low

5923.53
All market data carried by BBC News is provided by Digital Look. The data is for your general information and enjoy indicative status only. Neither the BBC nor Digital Look accept any responsibility for their accuracy or for any use to which they may be put. All share prices and market indexes delayed at least 15 minutes, NYSE 20 minutes.
Previous close
Latest updates
London Market Reports
Today 28.03.2017
16:55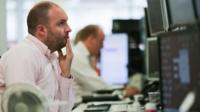 Shares in plumbing goods firm Wolseley end the day nearly 6% up after it reports a big rise in profits.
16:47
FTSE 100 closes higher
The benchmark London index has closed higher after the pound slipped ahead of the triggering of Article 50 on Wednesday. 
The FTSE 100 gained 49.92 points, or 0.68%, to 7,343.42 as the pound shed 0.33% against the dollar to $1.25170.
Among the best performers was  Wolseley , up 5.37% after the plumbing firm reported a big rise in profits. 
Bank  Standard Chartered  gained 3.98% while publisher  Pearson  was up 3.63%.
13:27
FTSE flounders
Both the FTSE 100 and the 250 are treading water in afternoon trading.   
One winner is the AA, up almost 5%, which Hargreaves Lansdown analyst Nicholas Hyett says reflects good news from its roadside assistance division. 
"The group has managed to reverse long-standing trends by reporting growth in member numbers. With retention rates on the rise too, these results mark an important milestone in its turnaround plan. There is still plenty of work to be done, however," he says.
Meanwhile, the decision by private equity firm JC Flowers to sell a 10% stake in OneSavings has sent shares in the bank down 6.4%. 
Flowers remains a 40%-plus shareholder, however, so there could be further sales to come, Hyett adds.
09:49
FTSE 100 update
Wolseley remains the stand-out leader on an otherwise lacklustre day so far for the FTSE 100. The building materials group is up more than 6% after reporting a big rise in profits. 
Randgold, down 1.5%, is the biggest faller despite the gold miner's bullish update on trading prospects.
The FTSE 100 is up 0.05% at 7,296.7 points. The FTSE 250 is also virtually flat, down just 0.08% at 18,885.4. 
08:06
Breaking
FTSE opens higher
The London market has done better than yesterday's stumble, managing a 0.25% rise to 7,313 points as trading begins.
Despite its £129m fine, Tesco shares are down just 0.4% at 189.1p, meaning they are virtually flat over the past 12 months.
Yesterday 27.03.2017
16:57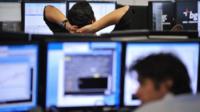 Sterling hits a seven-week dollar high after Donald Trump suffers a setback in Congress.
15:35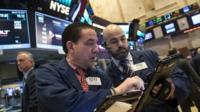 US shares finish lower amid fears President Trump's tax and infrastructure agenda will be derailed.
08:24
Breaking
FTSE falls
The London market is not off to a great start, shedding almost 60 points, or 0.8%, to 7,278 points as trading gets underway for another week.
British Airways owner IAG is the biggest faller, down 3.7%, with miners Glencore and Rio Tinto also suffering.
Randgold is the biggest riser, up 1.7%.
On the FTSE 250, First Group is 2.7% higher after winning with South West rail franchise along with MTR, while Kaz Minerals has declined 5.5%.
24.03.2017
17:31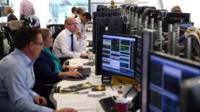 The UK market ends lower as investors remain cautious ahead of a key vote in the US Senate.
08:20
FTSE 100 holds steady
No dramatic moves for the FTSE 100 in the early going. The benchmark index is holding steady at 7,340.
Next shares have eased 1% lower after soaring almost 9% on Thursday.
Analysts had been keeping an eye on a vote by US lawmakers on healthcare, seen as a key test of President Donald Trump's politicial agenda. That vote was supposed to be on Thursday but has been delayed until today.
Ian Williams at Peel Hunt says that investors are likely to be "nervous" before that vote.
Back to top