Markets
MDAX
As of 11:04 30 April 2017 - Market closed
index value

24615.79
index change:

-53.81
index change percentage: down

-0.22%
Open

24669.78
Previous close

24615.79
52 week high

24694.75
52 week low

18920.99
All market data carried by BBC News is provided by Digital Look. The data is for your general information and enjoy indicative status only. Neither the BBC nor Digital Look accept any responsibility for their accuracy or for any use to which they may be put. All share prices and market indexes delayed at least 15 minutes, NYSE 20 minutes.
Previous close
Latest updates
London Market Reports
28.04.2017
12:29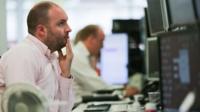 Shares in the bank drop more than 5% despite it reporting a doubling in profits.
08:05
Breaking
FTSE struggles
London is a touch higher at the open, with Barclays falling almost 3%.
RBs, however, is up 3.4%, bringing gains this year for the bank to more than 16%. 
27.04.2017
17:16
FTSE 100 closes lower
The FTSE 100 closed lower after weak oil and commodity prices weighed on the index. It fell 51.55 points, or 0.71%, to 7,237.17 points. 
Miners BHP Billiton, Fresnillo and Glencore were among the worst performers - down 4.75%, 3.82% and 3.15% respectively. 
Lloyds Banking Group and house-builder Persimmon gained 2.31% and 2.36% respectively, after both published strong results. 
16:56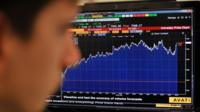 The pound pushes above the $1.29 mark but the FTSE 100 share index falls.
26.04.2017
17:18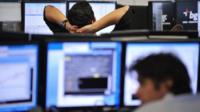 Standard Chartered shares made the biggest gains after profits nearly doubled.
25.04.2017
18:46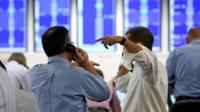 FTSE 100 index closes 11 points higher at 7,276.
17:22
FTSE 100 closes higher
UK stocks edged higher on Tuesday as a Europe-wide rally after the first round of the French election lost steam. 
The blue-chip FTSE 100 index ended up 0.15%, with financials, energy and healthcare stocks supporting gains. 
Among the top risers were Hikma Pharmaceuticals, up 3.42%, miner Glencore, up 2.19% and medical products maker Convatec Group, up 1.8%.
However, shares in Whitbread slumped 7.13% after it reported annual results. 
Profits at the Costa Coffee-owner rose, but it said it remained "cautious" about prospects for the next 12 months.
24.04.2017
17:59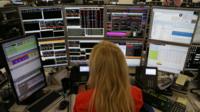 Shares across Europe see sharp gains following the first round of France's presidential election.
12:58
Breaking
Market rally continues
The market rally on the back of Emmanuel Macron's victory in the first round of the French presidental election continues. 
The FTSE 100 has held onto its gains to be up 1.7% at 7,236 points. On the continent it's a similar story with France's CAC-40 still 4.5% higher and Germany's DAX up almost 3%.
Energy firms are the biggest FTSE losers due to government plans to cap household energy bills. Centrica is down 4.5%, with SSE off 3.2%.
21.04.2017
17:42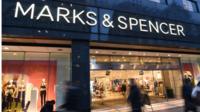 London share prices slumber on a quiet day for corporate and economic news.
Back to top