Markets
Dow Jones
As of 11:09 20 February 2017 - Market closed
index value

20624.05
index change:

4.28
index change percentage: up

0.02%
Open

20564.13
Previous close

20624.05
52 week high

20624.05
52 week low

16391.99
All market data carried by BBC News is provided by Digital Look. The data is for your general information and enjoy indicative status only. Neither the BBC nor Digital Look accept any responsibility for their accuracy or for any use to which they may be put. All share prices and market indexes delayed at least 15 minutes, NYSE 20 minutes.
Previous close
Latest updates
Wall Street Market Reports
17.02.2017
21:25
Wall Street markets end higher after late push
After a sluggish day, US markets ended higher thanks to a late-afternoon push. 
The Dow gained 0.02% to 20,624.05 and the S&P 500 was up 0.17% at 2,351.16.
The Nasdaq climbed to its fourth record close of the week - up 0.41% at 5,838.58 points.
Despite the positive finish, stocks seem to have lost some momentum in recent days, after weeks of rallying on stronger-than-expected reports on the economy.
Lindsey Bell, an investment strategist at CFRA Research, warned that optimism about Donald Trump's economic policies could again give way to caution. 
"People are focusing on only the good of what his campaign promises were," she said.
"What makes me nervous is that it feels like the market is ignoring what could come on immigration, trade, healthcare - the negative implications that could come from a protectionist government."
15:39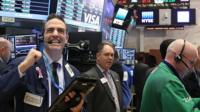 Wall Street scrapes to new highs, with Kraft leading the way after revealing a takeover offer for Unilever.
16.02.2017
22:49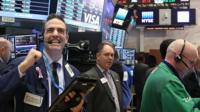 The S&P 500 index ends lower, breaking a seven-day winning streak not seen for three-and-a-half years.
21:23
US stocks close mostly lower
Wall Street markets closed mostly lower on Thursday, bringing an end to the rally seen over the past five days.
The Dow Jones index gained 0.04% to 20,619.77, the S&P 500 lost 0.09% to 2,347.22, and the Nasdaq shed 0.08% to 5,814.90.
It comes after all three indexes chalked up records yesterday after Donald Trump pledged to slash business taxes from .
On Thursday Bruce McCain, chief investment strategist at Key Private Bank, said:  "It's certainly a market that has confidence. The problem with that is, when confidence gets that high, it's harder to push the market considerably higher."
14:37
Wall Street opens higher
Yesterday's strong performance on Wall Street looks set to continue after all three main indexes opened higher.   
In the first few minutes of trade the Dow Jones is 0.06% higher at 20,624.18, the S&P 500 is up 0.08% at 2,351.18, and the Nasdaq is 0.15% higher at 5,827.88.
US stocks hit fresh highs yesterday after a pledge from President Donald Trump to slash business taxes and a round of strong economic data.
15.02.2017
22:50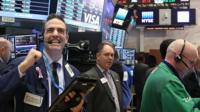 Wall Street pushes further into record territory, with the S&P 500 chalking up a seven-session winning streak.
21:18
Dow Jones closes on record high
The Dow Jones index has closed on a record high following a pledge from Donald Trump to slash business taxes and a round of strong US economic data.
The Dow gained 0.52%, or 107.45 points, to 20,611.86, with strong performances from Procter & Gamble Co (up 3.7%), Pfizer Inc (2.26%) and JP Morgan Chase & Co. (1.15%).
The S&P 500 recorded its fifth straight record close, ending 0.5% higher at 2,349.25, while the tech-heavy Nasdaq gained 0.64% to 5,819.44.
In a meeting with top executives from US retail companies, Mr Trump said he would lower taxes substantially and simplify the US tax code, echoing a vow he made last week.
14.02.2017
21:59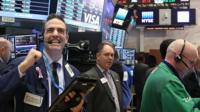 Wall Street notches up another record day, with bank shares jumping in expectation that US interest rates could rise soon.
13.02.2017
21:47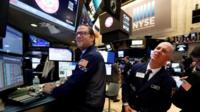 The total value of the S&P 500 reached $20tn for the first time as investors take positive view of Trump's approach.
10.02.2017
21:10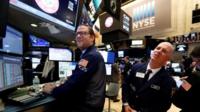 President Trump's tax reform pledge sees Wall Street off again to new record highs.
Back to top