Markets
Nasdaq
As of 10:51 27 April 2017 - Market open
index value

6039.3
index change:

14.07
index change percentage: up

0.23%
Open

6038.47
Previous close

6025.23
52 week high

6048.33
52 week low

4594.44
All market data carried by BBC News is provided by Digital Look. The data is for your general information and enjoy indicative status only. Neither the BBC nor Digital Look accept any responsibility for their accuracy or for any use to which they may be put. All share prices and market indexes delayed at least 15 minutes, NYSE 20 minutes.
Previous close
Latest updates
Wall Street Market Reports
Today 27.04.2017
15:19
Wall Street shares climb
US stocks edged higher on Thursday as the European Central Bank kept interest rates on hold and investors awaited further corporate earnings reports.
A short while ago the Dow Jones was up 0.13% at 21,003.15 and the S&P 500 was 0.11% higher at 2,390.08. The Nasdaq had gained 0.35% to 6,046.44.
Quarterly earnings reports from Amazon, Google parent Alphabet and Microsoft are expected after the market closes. 
15:17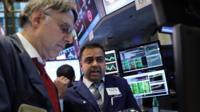 Wall Street sees modest gains as investors wait for results from Microsoft, Amazon and Alphabet.
Yesterday 26.04.2017
21:19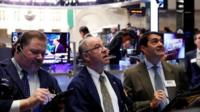 A huge market rally has stalled of late due to a lack of clarity on Trump's policies.
25.04.2017
23:30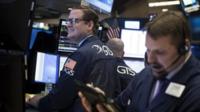 Stocks on Wall Street continue to rise, buoyed by strong company results.
21:34
US stocks close higher
US stocks have closed higher after a clutch of strong earnings reports buoyed investor sentiment. 
The Dow gained 232.23 points to 20,996.12 and the S&P 500 climbed to 14.46 points 2,388.61. The tech heavy Nasdaq also surpassed the 6,000 mark to close 41.67 points higher, at 6,025.49.
Firms to have reported strong results on Tuesday include heavy machinery maker Caterpillar, chemicals company DuPont and McDonald's.
The gains build on a rally yesterday, which was driven by the victory of centrist candidate Emmanuel Macron in the first round of the French presidential election.  
24.04.2017
22:51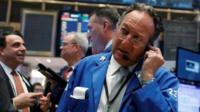 Stocks on Wall Street join in the global rally triggered by the French election result.
21.04.2017
21:28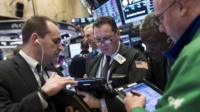 Wall Street's main markets fall on mixed earnings and cautious sentiment ahead of the French elections.
00:46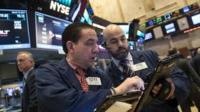 Wall Street bounces back on Thursday, with the Nasdaq Composite hitting a new record high.
19.04.2017
23:40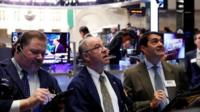 Poor results at IBM turn the firm into the biggest loser on the Dow Jones index on Wednesday.
21:17
Breaking
Dow and S&P fall
The S&P 500 and Dow closed lower while the Nasdaq rose as investors digested the latest round of results. 
The Dow Jones Industrial Average fell 0.6% to 20,403 points - its lowest level since February - while the S&P 500 lost 0.2% to 2,338 points.
The Nasdaq gained 0.2% to 5,863 points. 
Back to top