Markets
Nasdaq
As of 14:21 28 March 2017 - Market open
index value

5886.01
index change:

45.63
index change percentage: up

0.78%
Open

5836.50
Previous close

5840.37
52 week high

5904.03
52 week low

4594.44
All market data carried by BBC News is provided by Digital Look. The data is for your general information and enjoy indicative status only. Neither the BBC nor Digital Look accept any responsibility for their accuracy or for any use to which they may be put. All share prices and market indexes delayed at least 15 minutes, NYSE 20 minutes.
Previous close
Latest updates
Wall Street Market Reports
Today 28.03.2017
18:31
US markets climb
All the major stock indices are climbing this afternoon in the US.
Short while ago the Dow Jones was up 0.62% at 20678.13 points, with banks JP Morgan and Goldman Sachs gaining 1.6% and 1.37% respectively. 
The S&P 500 also gained 0.62%, to 2356.05, while the Nasdaq climbed 0.43% to 5,865.50.
15:29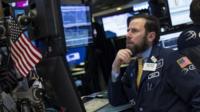 Stocks on Wall Street lack direction in early trade, as investors wait for a speech from the US Fed chief.
24.03.2017
21:42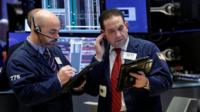 The Dow and S&P 500 close lower, while the Nasdaq rises after vote on healthcare bill is withdrawn.
23.03.2017
20:29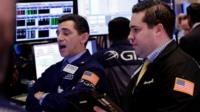 Stocks on Wall Street close little changed, and Ford dips as it says profits this year will be lower.
22.03.2017
20:53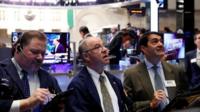 US shares recover from early losses with the Nasdaq and S&P 500 closing higher, while the Dow sheds six points.
12:01
'Little justification' for record share levels
Analysts are looking ahead to the open of trading on Wall Street at 13:30 GMT.
"The rest of the day's trading will likely be dependent on how the Dow Jones fares after the bell rings on Wall Street," said Connor Campbell from SpreadEx.
"After stagnating for most of March the Dow suffered a near 300 point drop on Tuesday, taking it to its lowest level in nearly a month; that fall has arguably been coming, with little in the way of justification – bar blind Trump optimism – to keep it so close to its record peak," he added.
21.03.2017
21:28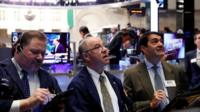 US stock markets fall as investors fret about whether President Donald Trump can deliver promised tax cuts..
20.03.2017
21:00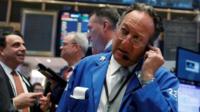 The Dow Jones and S&P 500 indexes dipped on Monday, with bank shares coming under pressure.
17.03.2017
20:28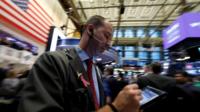 US stock markets closed slightly lower on Friday as as rally prompted by the US central bank pauses.
20:21
US markets end lower
Wall Street stocks ended lower as a rally spurred by the Fed's decision to raise rates this week continued to lose steam.
The Dow Jones lost 0.10% to 20,914.62, the S&P 500 shed 0.13% to 2,378.25, and the Nasdaq was flat at 5,901.00.
Among the weakest performers were financial stocks, with  Goldman Sachs and  JP Morgan Chase  down 1.72% and 1.05% respectively. 
Healthcare stocks also struggled, after a study on Amgen's cholesterol drug Repatha disappointed investors, sending its shares 6% lower. 
This dragged on the S&P 500 healthcare index which fell 0.53%.
Back to top