US shares slip as economy shrinks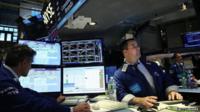 (Close): US stock markets closed lower as figures showed the US economy shrank by 0.7% in the first quarter of the year.
The Dow Jones fell 115.31 points to 18,010.81. The S&P 500 lost 13.40 points to 2,107.39, while the Nasdaq lost 27.95 to 5,070.03.
Shares in cinema equipment maker Imax Corp recovered losses to rise 1%.
The company said it was planning an IPO in Hong Kong, hoping to benefit from the boom in demand for entertainment.
Shares in electric gaming retailer GameStop rose 6% after reporting earnings that beat analysts' estimates.
Shares in Rosetta Stone - the language teaching company - also rose 18% after receiving interest from RDG Capital Fund Management.