Stocks recede after fiery Trump rally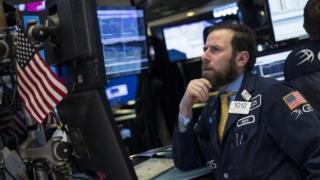 US markets opened lower on Wednesday, sliding back after President Donald Trump gave a fiery speech suggesting more political drama lies ahead.
At a rally in Arizona on Tuesday, President Trump said he would be willing to shut down the government if Congress resists funding a border wall.
He also said he was still considering terminating the North American Free Trade Agreement.
The Dow Jones, a collection of 30 major US companies, fell 0.22% to 21,851.96.
The wider S&P 500 index fell 0.25% to 2,446.35, while the Nasdaq fell 0.23% to 6,282.7 points.
The losses, which were seen in most sectors, came after a rally on Tuesday, when share prices regained some of the ground lost in recent weeks.
A government shutdown would be disruptive to the economy, especially in states dependent on the federal government and contractors for work, such as Maryland.
Economists say scrapping Nafta would also hurt business in the US, which counts Canada and Mexico among its biggest trade partners.
Rail companies were among the firms recording losses in opening trade. CSX fell 2%, while Kansas City Southern was down almost 3%.
Retail giant Walmart was up about 0.4%, after it said it was working with Google to offer customers a voice-activated ordering service - a move meant to counter e-commerce rival Amazon.
But the growing might of tech giants continues to be felt in other sectors.
Shares of advertising company WPP tumbled 11%, after the firm warned that growth would be lower than expected this year.
The firm is under pressure from the switch to digital advertising, in which Google owner Alphabet and Facebook are capturing much of the new ad spending.