Will Wikitribune help combat fake news?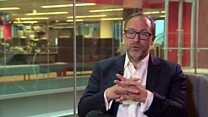 Jimmy Wales has launched Wikitribune: a crowd-sourced news website full of high-quality impartial news (eventually).
Here's my take:
Jimmy Wales's interest in news media is nothing new. For years he has expressed concern about how to guarantee the future of quality journalism, and even been talked of as a potential investor in existing media companies.
But when I spoke to him yesterday, it was clear that there was something new - or rather three things - that finally turned his long-standing interest into the reality of Wikitribune.
The first is what we call fake news. Fake news is a multi-faceted thing, and not altogether new; but it is undoubtedly the case that the deliberate, viral spreading of misinformation, either for commercial or political ends, has radically spiked around some of the big news events of the past year. Moreover, efforts to tackle it have often been pathetic thus far, and less often successful. This really irks Wales, and quite right too.
Clickbait