Standard's deputy moves to Mail Online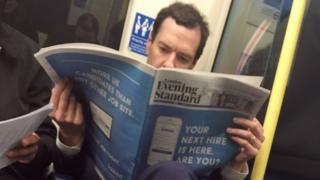 There's been a lot of "fair play, George Osborne" on Twitter in recent days, commending him for breaking a series of agenda-setting political stories.
There was the line about how not a single member of the cabinet supports the prime minister's immigration cap, followed by the scoop about her swivel on social care.
Given his 20 years in politics, including six as chancellor, by my calculation Mr Osborne has roughly 17,000 further scoops in his head, with which he will no doubt be entertaining readers of the Standard in weeks to come.
He has had a very lively news agenda in his first weeks as an editor, with not just the election and now the horror in Manchester, a city he championed, with a constituency nearby, but also Donald Trump's novel experiments in modern public administration.
The tougher test will come when, inevitably, the news agenda is quieter - perhaps in August, for instance.